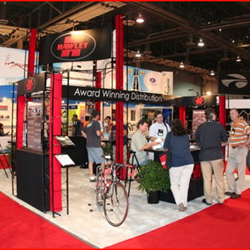 Truss display rentals are a more affordable option for infrequent exhibitors, first-time exhibitors, or are not in the market to purchase one.
Gig Harbor, WA (PRWEB) January 22, 2015
Locally owned Smash Hit Displays announces launch of truss display rentals. These displays are said to be a more affordable option for those who are infrequent exhibitors, are a first-time exhibitor, or are not in the market to purchase a trade show booth.
A study conducted by the Exhibitor Media Group reported that out of 100 marketing professionals in 2014, nearly half have used trade show display rentals, compared to only 28 percent in 2011. Rental displays have increased in popularity because of the added custom options, such as flooring, furniture, and graphics. A variety of sizes and configurations are also available to fit the exhibitor's needs.
All of Smash Hit Displays' products are manufactured and shipped from the USA.
About Smash Hit Displays
Founded in 2003, Smash Hit Displays has become a leader in the trade show industry for providing their customers with quality, durable trade show displays, flooring, and accessories. They also provide professional graphic design services to their clients. Smash Hit Displays is a small, family-owned business who has enjoyed meeting new people and helping exhibitors become trade show successes. Due to their longstanding history with their vendors, they are able to negotiate the lowest prices on their quality booths, saving their customers money.