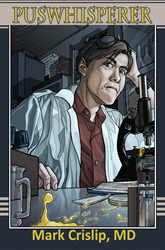 Mark Crislip makes reading about infectious disease fun
Pasadena, CA (PRWEB) January 21, 2015
Putting the "MR" in MRSA. The ins and outs of the flu shot. Why pork might be the other white meat, but unless you fancy a brain full of worms, needs to be cooked through. Oregon infectious disease physician Mark Crislip answers all of these questions and many more, in his recently released "Puswhisperer: A Year in the Life of an Infectious Disease Doctor."
Originally intended for residents and fellows, the book has been revised and edited to make it accessible for a non-expert audience, including illustrations of some complex topics such as microbial resistance, parasite lifecycles, and microbial cell wall structures. At the same time, the material remains technical enough to please the aficionados, and might even help with board exams. Not-to-be-missed conditions, such as bacterial endocarditis, are recurring themes, while the occasional "cool case" showcases infectious diseases rarely seen in this country or century: from acne bacteria infecting the brain, to multidrug-resistant tuberculosis, Valley Fever, and brucellosis from a bad batch of goat cheese.
Along with clinical insight, the book provides a good dose of humor and insightful, microbe-centered philosophy. The author speculates on what the Earth might look like in five billion years, when animals and plants are gone, but bacteria remain. He also draws attention to the staggering rate of evolution in bacteria, made possible by short generation times and passing of genetic material from one bug to another. Finding a 60-year-old Staph strain in an old wound, Crislip tells us, is like looking out your window and seeing a Neanderthal shuffle by. A previous, unedited version earned over 80 ratings on Goodreads, with a 3.87 rating. FanGirl Nation gave the book a 5-star review, saying "Crislip's sense of humor and pop culture references make reading about infectious diseases…dare I say it…fun."
The trade paperback is distributed by Small Press Distribution (Berkeley, California), Ingram, and Baker & Taylor. The DRM-free e-book is currently available on Amazon and the publisher's website, and will become available for Apple, Nook, and other formats over the next few days. Volume II in the series, "Puswhisperer II: Another Year of Pus" will be released in Fall 2015.
Crislip has been practicing Infectious Disease (ID) for over 23 years in the Pacific Northwest. He began blogging when he realized that the infectious disease cases he saw were too interesting to keep to himself. Mirroring one of his inspirations, the 1978 TV show "Connections" by James Burke, ID extends beyond medicine and into all facets of the human condition: history, politics, archeology, relationships, global warming and more. Why keep that amazing information to himself? ID is just so cool. The result is his growing multimedia empire which can be found at Pusware. He always gets his flu shot on the first day it is available.
A full-service publisher handling both fiction and non-fiction, Bitingduck specializes in books with science or nerd themes. Upcoming 2015-2016 catalogs will feature young adult and hard sci-fi. Submissions in all genres are welcome, particularly nonfiction; the submissions guidelines are found on the publisher site.