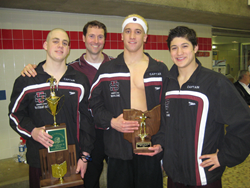 Hunting Valley, Ohio (PRWEB) January 21, 2015
To this day you can enter University School's Weatherhead Natatorium, peek up at the school's record board, and see a wall covered with three familiar names: Andrew Malone, Mike Gaudiani and Ben Stewart-Bates. The three broke five state, five school and seven pool records, while leading US to three district and three state titles. The trio of senior captains finished off their high school careers in 2011 with a dominating performance in the state meet, cementing their place as one of US's most successful teams.
The former high school captains were recently named captains of their college swim teams: Malone (University of Southern California), Gaudiani (Harvard University) and Stewart-Bates (Davidson College). High school state championships have turned into conference championships. Record-breaking swim times have turned into competing at the Olympic Trials.
While they now lead Division 1 teams, what they learned under coach Perry and throughout their time at US has proven to be a springboard to their current accomplishments.
"My experiences at US profoundly influenced my abilities as a team captain in college," said Gaudiani, who swam at the 2012 Olympic Trials and won an Ivy League conference championship in 2014. "Coming from a very close knit team like the one at US made me appreciate the brotherhood that is formed through the sport from away meets, hard practices, and the ups and downs associated with competitive athletics."
The concept of a team is constantly brought up in conversations with the three, as individual accomplishments often become an afterthought.
"What I learned at US is that a leader doesn't have to be the fastest person on the team," said Stewart-Bates, who has swam on a CCSA conference championship team, setting school and conference records in the process. "I think I made my mark as a leader by working hard in and out of the pool and trying to connect with all the athletes on the US team, even the ones who might never swim a varsity letter time."
Malone, who has competed in the finals of every Pac12 of his collegiate career and also swam in the 2012 Olympic Trials, said he's very lucky to swim with such great guys in high school and college. "Working with Mike and Ben was easy; they were my best friends and we were leading a team of guys we were all close with. I find myself in the same position now in college."
It comes as no surprise that the three swimmers have found success beyond the pool. Malone, who is majoring in computer science engineering and business, has been named a Scholastic All-American and earned several engineering scholarships. Gaudiani is pursuing a degree in human evolutionary biology and is a licensed EMT. Stewart-Bates is earning a degree in the Classics, studying pre-med, and completed medical research at nearby Summa Hospital.
"All three of the boys still have maintained academic excellence while pursuing the highest collegiate level of their sport," said coach Perry. "This is no easy task. US prepared them well, and they took what they learned and swam with it!"
The three are now preparing for life after college. For Mike and Ben that means medical school. For Andrew, a career in computer science, engineering, or business. But in the immediate future it is about finishing their senior seasons just as they did at US…as leaders. And what a fitting end that will be.
About University School:
Founded in 1890, University School is an independent day school, educating boys in kindergarten through grade 12. The school's mission is to inspire boys of promise to become young men of character who lead and serve. Our dedicated faculty, rigorous curriculum, and experiential programs foster intellectual, physical, creative, and moral excellence. University School is a diverse and inclusive community where each boy is known and loved.
University School maintains two campuses: the Shaker Heights Campus has 460 students in kindergarten through grade 8; the Hunting Valley Campus is home to 420 students in grades 9-12.