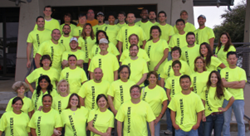 "Ensuring employee happiness is a cornerstone of our business strategy, and what Banker's Toolbox stands for," says Banker's Toolbox CEO, Daniel Cho.
Austin, TX (PRWEB) January 22, 2015
For the third consecutive year, Banker's Toolbox was named one of the 2015 Best Companies to Work for in Texas. This award is administered by Texas Monthly magazine, the Texas Association of Business (TAB), Texas SHRM and Best Companies Group.
Banker's Toolbox's focus on employee happiness and delivering rewarding workplace experiences attributes to it being a desirable workplace for job seekers in Austin, Texas.
"Ensuring employee happiness is a cornerstone of our business strategy, and what Banker's Toolbox stands for," says Banker's Toolbox CEO, Daniel Cho. "We strive to create an environment where employees can be professionally and personally fulfilled. We want our employees to genuinely enjoy the company of their co-workers and the work that they do each day.
This award program, created in 2006, distributes surveys statewide to help identify, recognize and honor the best places of employment in Texas, benefiting the state's economy, workforce and businesses. Companies are split into different categories based on number of employees. Employees then complete a 72-question survey, which they answer on a five-point agreement scale. Those results, combined with two open-ended questions, are how the eventual winners are formulated.
The employee centric culture is evident in the other benefits that helped Banker's Toolbox secure its presence on the list for the third year in a row, which include a recreation room stocked with video games and a Ping-Pong table, complimentary breakfast foods and lunch daily, unlimited snacks and drinks, quarterly celebrations, a complimentary on-site gym, individual offices for every employee, no formal dress codes, 401k matching and annual bonuses based on profits.
Banker's Toolbox is presently seeking applications for several positions including software engineer, national risk specialist, technical solutions representative and business development associate. Other regular employment positions include project manager, relationship manager and technical support representatives. Interested applicants should visit http://www.BankersToolbox.com/Careers for more details.
About Banker's Toolbox, Inc.
Austin, TX-based Banker's Toolbox, Inc. helps community financial institutions manage risk and streamline compliance examinations. The company's product suite consists of proven solutions for money laundering detection and reporting, risk management through fraud and kite prevention, secure wire processing automation, and commercial real estate loan portfolio risk assessment. The Banker's Toolbox team is a unique combination of seasoned bankers, former regulators, and information technology consultants who specialize in designing, developing, and implementing risk management solutions while providing unparalleled customer service. For more information, visit the company's website at http://www.bankerstoolbox.com.