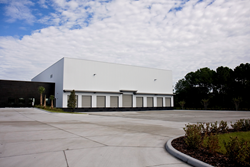 The warehouse was built to withstand the hurricane force winds and damaging rain with 150 mph Wind-Load and 24 gauge roof and wall panel.
Fort Lauderdale, Florida (PRWEB) January 21, 2015
The first RIP-IT face guard was originally developed by Mike Polstein in his garage after his daughter Lauren was hit in the face by a low pitch that dropped off the top of her bat.
He went into the garage with an idea to design and construct a face guard that Lauren could wear during games. He knew it had to protect his daughter's face, have the best possible field of vision, be lightweight and comfortable, and it had to fit any brand of helmet she decided to wear. Mike accomplished his goal, and the end product was a sleek face guard design that offered a drastically increased field of vision. Thanks to her father, Lauren didn't miss a beat on the field.
It wasn't long before the other parents started asking Mike to make one for their daughters. He went to work in his garage and produced a few more for Lauren's teammates. With Mike Polstein's vision and the efforts of his two sons Jason and Matthew, over a decade later RIP-IT is thriving and has added new sporting goods to their catalog included bats, helmets, bags and more.
Allied Steel Buildings was selected by Chronus Construction to provide a 120'x160'x42' metal warehouse and showroom for the growing company. The clear span warehouse features a sleek single-slope roof, with a valley gutter system on the East side, and a parapet wall on all four sides. Located in Orlando, Florida the building was built to withstand the hurricane force winds and damaging rain with 150 mph Wind-Load and 24 gauge roof and wall panel.
From the beginning, RIP-IT was founded on the idea of creating high-performance, baseball and softball equipment, as well as providing exceptional customer service. While RIP-IT has grown many times larger since its birth in the Polstein's garage, it continues to stick to the core values it created back then.
END
Allied Steel Buildings is a recognized leading supplier of high-quality pre-engineered steel buildings and metal building systems. In its more than ten years of experience, the company has developed almost 4.000 different steel buildings all over the world, delivering building solutions for diverse industries, from aviation to equestrian. One customer and one building at a time.
RIP-IT is a family owned and operated business established in 2003, created out of need for better safety on the softball field. RIP-IT began producing a revolutionary face guard that provided the necessary protection without impeding the vision of the player.