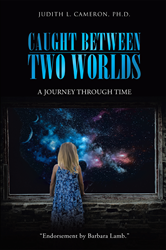 It's when we break from our three-dimensional viewpoint that we discover new possibilities
FULLERTON, Calif (PRWEB) January 21, 2015
According to one expert, it's when we release the grip of daily life on earth that we can raise our mass consciousness.
In her new book "Caught Between Two Worlds," Judith L. Cameron, a clinical hypnotherapist, parapsychologist and former education consultant with NASA, provides a first-hand account of her experiences exploring possibilities of future earth.
"We really need to reach out there with our thinking," Cameron said. "I approach my research from a scientific viewpoint first, but it's when we break from our three-dimensional viewpoint that we discover new possibilities."
She shares her stories on encountering extraterrestrials, which she said she's done since she was 6 years old, and offers practical, straightforward advice for readers to do the same.
Cameron said she also wants to empower others who have had extraterrestrial contact but are afraid to share their experiences for fear of judgment.
For more information, visit http://cosmicangelhypnotherapy.com.
"Caught Between Two Worlds: A Journey through Time"
By: Judith L. Cameron
ISBN: 978-1-4525-1541-0
Hardcover retail price: $37.95
Softcover retail price: $19.99
E-book retail price: $3.99
Available online at Amazon and Barnes & Noble
About the author
Judith L. Cameron is a clinical hypnotherapist, parapsychologist and owner of Cosmic Angel Enterprises, LLC, an alternative healing center. A retired teacher, she taught for 40 years at every grade level, with the majority of time spent teaching high school science and psychology. She was also an education consultant with NASA for 13 years, her work earning her an invitation to the White House where she met President Bill Clinton, Hilary Clinton, Neil Armstrong, Buzz Aldrin and other prominent astronauts. She also served as faculty for Challenger Center for Space Science Education.