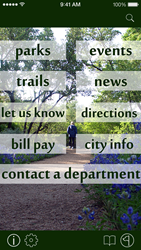 Nearly 60 percent of American adults have a smartphone and 42 percent own a tablet computer, according to the Pew Research Internet Project.
Lakeway, TX (PRWEB) January 21, 2015
The City of Lakeway has partnered with app developer Bar-Z to launch the city's first mobile app that puts information on city services and amenities in the hands of its citizens and visitors.
The free app is available for download on iPhone, iPad and Android devices to connect the community with convenient and powerful features not available anywhere else.
Citizens can get the latest in city news and events, and residents and visitors alike will find GPS assisted turn-by-turn navigation to many different locations, ranging from important city buildings to recreational sites and trail heads.
The app's bill pay button links to the city website so that residents can login to their accounts smoothly to pay bills. The app also provides an interactive digital postcard so that everyone can share the fun they've had in Lakeway via email or social media.
Contact information, such as staff phone numbers, social media and website links, is all interactive; users tap the screen and the app responds, opening up communication with the city seamlessly and easily.
A "Let Us Know" section provides a direct link for citizens to connect with city offices on topics such as traffic, litter, noise and maintenance issues.
Users also can access the app's QR code reader to scan QR codes along the Canyonlands trail system. This unique technology enables hikers to use their smartphones to download a map that helps them navigate the trail system.
"This app is another tool to achieve the city's ongoing goal of providing citizens with valuable news and information," Lakeway Mayor Dave DeOme said. "We wanted to reach a significant segment of our community via technology that is becoming more and more popular each day."
Nearly 60 percent of American adults have a smartphone and 42 percent own a tablet computer, according to the Pew Research Internet Project.
Observing these national trends that mirror the rise in the use of mobile devices to access the City of Lakeway website, which will continue to serve as the primary source of online interaction with the public, the city contacted Bar-Z, a Westlake app developer with a national client base.
"We are excited to work with the City of Lakeway to help them develop an app that meets the needs of the city and offers residents both practical and fun information," Bar-Z CEO Lee Little said. "It was great to partner with our neighbors just down the road to bring them into the mobile age."
To find the app, search for "City of Lakeway, TX Mobile App" in the Apple and Google Play app stores.
About Bar-Z
Bar-Z is a mobile software development firm based in West Lake Hills, TX. Bringing 9 years of experience, the company offers a variety of unique customized digital solutions for a variety of niche industries. Bar-Z works with organizations such as publishers and broadcasters, theme parks and attractions, municipalities, convention and visitor bureaus, and destination marketing organizations to help them engage and communicate with their audiences and realize new revenue opportunities. For more information, visit http://bar-z.com.