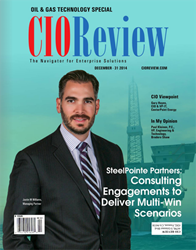 The SteelPointe Partners Transformational Accelerators have been designed to be implemented in part or whole, focused on leveraging client's previous investments and delivering maximum ROI -Justin Williams, Managing Partner, SteelPointe Partners
FREMONT, CA –
December 31, 2014 – (PRWEB) January 21, 2015 -- CIO Review (http://www.cioreview.com) has chosen SteelPointe Partners (http://www.steelpointepartners.com) for its 20 Most Promising Energy Tech Solution Providers. The positioning is based on evaluation of SteelPointe Partners' success in offering strategy consulting, business services, technology advisory services, and corporate governance. The annual list of companies is selected by a panel of experts and members of CIO Review's editorial board to recognize and promote technology entrepreneurship. "SteelPointe Partners has been on our radar for some time for stirring a revolution in the Energy Tech space, and we are happy to showcase them this year due to their continuing excellence in delivering top-notch technology-driven solutions," said Harvi Sachar, Publisher and Founder, CIO Review. "SteelPointe Partners' solutions continued to break new ground within the past year benefiting its customers around the globe, and we're excited to have them featured on our top companies list."
"SteelPointe Partners is honored to be recognized by CIO Review's panel of experts and thought leaders," said Justin Williams, Managing Partner, SteelPointe Partners.
A particular focus and example of the value SteelPointe Partners' Transformational Accelerators deliver is their Software Quality Assurance (SQA) program: creating a testing framework for establishing and enhancing Testing Centers of Excellence (TCoE) for clients. SteelPointe examined the ability to drive SQA efficiencies—monitoring the processes and testing methodologies—then used the results to determine which technology tool set could be reliably delivered and automated quickly and successfully.
"When we reviewed the available technology," said Justin Williams, "we found HP's toolset overwhelmingly met the requirements and offered innovative solutions. SteelPointe and HP have everything that customers need in SQA, SteelPointe provides executive-level industry experience and Transformational Accelerator processes. HP's toolset fills every technology need. For software quality assurance we turn to HP every time."
Shannon McWilliams, Director of Enterprise Software in Arrow Electronics' Enterprise Computing Solutions business, agrees that the match was made in heaven. "SteelPointe had industry expertise and services capabilities that align very well with the capabilities of HP software. We look forward to continue our collaboration with SteelPointe and HP to bring these solutions to the market." Arrow is the 2014 HP Distribution Partner of the Year, Enterprise Group.
SteelPointe Partners has broad experience and expertise in the energy industry. As the price of oil began to decline, SteelPointe saw an opportunity for SteelPointe's SQA to refocus the industry on efficiencies and cost savings. By automating the testing processes within the software development lifecycle, and also within non-traditional areas such as financial control testing and production reports, SteelPointe could drive immediate value for energy companies: Such areas would be a very quick win on an energy company's journey to increased efficiencies.
"Companies were months behind in testing," said Williams. "Skilled resources, who have regular day jobs—such as financial analysts, CPA's, and end users—were overwhelmed by time consuming and inefficient manual testing efforts. Operations managers were spending hours a day preparing daily reports, distracting them from their core jobs. The business and the operations teams needed relief."
SteelPointe knew that its people and processes together with HP technology would provide an innovative solution and respond directly to client needs. Together, SteelPointe and HP have already helped companies implement successful TCoE solutions, including TCoE-as-a-Service.
Williams says that HP plays an integral part in SteelPointe's ongoing success. "It's a three legged stool," he says. "People, process and technology. If any one of those legs falters, the stool falls over. On the technology side, with HP, we get reliability, breadth of portfolio, and unmatched support. The support we get from HP and the access to its entire portfolio—particularly that software that comes as a service—is a massive enablement for SteelPointe."
HP understands and appreciates the people and processes at SteelPointe, and how closely they mesh with HP's technology. "We value the partnership between HP Software and SteelPointe Partners," says Phil Rayment, Vice President, Alliances and Channels, HP Software Americas. "SteelPointe's dynamic approach around Transformational Accelerators and its proven industry talent is a winning combination. Our HP Software teams have trust and confidence in SteelPointe to deliver business value faster to our customers."
About SteelPointe Partners
SteelPointe Partners is a global IT management consulting, professional services and outsourcing firm differentiating on flexibility and speed.
SteelPointe Partners is a company who delivers business value through:

A unique approach enabled by Transformational accelerators that offer rapid, scalable and tailored solutions
An accelerated scoping and delivery model that provides value in differential timeframes, led by industry practitioners
Leveraging existing investments and best practices into the solutions delivered
They specialize in Strategy Consulting, Business Services, Technology Advisory Services, Corporate Governance, Project Based Consulting, Staffing, and LEAN Six Sigma Value Stream Mapping.
About CIO Review
CIO Review constantly endeavors to identify "The Best" in a variety of areas important to tech business. Through nominations and consultations with industry leaders, our editors choose the best in different domains. Energy Tech Solution Providers is an annual listing of 20 Most Promising Energy Tech Solution Providers in the U.S.