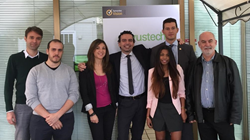 Novustech has been an invaluable partner for years and we are excited to work even closer with them to enhance support for our customers.
Portsmouth, New Hampshire (PRWEB) January 21, 2015
Vault Solutions, LLC is excited to announce that it is enhancing its support for its customers in EMEA. It is accomplishing this with the help of its long time partner and reseller, the Milan-based consultancy novustech.
Novustech is a Symantec specialist partner for Archiving and eDiscovery and also has extensive experience deploying and supporting Vault Solutions' products. They have performed a number of email archive migrations and have assisted many customers importing NFS data into Symantec's Enterprise Vault using Vault Solution's Archive Accelerator for NFS product.
There will be no difference to the support process, but customers in EMEA and even Asia Pacific will notice quicker response times during the AM and also during US holidays. Customers will be able to get support not only in English, but also French, Italian and Arabic.
Vault Solutions recently provided in depth technical training on all of its products to novustech's staff in Milan.
About Novustech:
Novustech is an ICT consulting company offering solutions built on top of leading technologies for business. Novustech, partner of Symantec since its foundation, is based in Italy but delivers in many EMEA countries projects relating to Information Management, with particular attention to Archiving and eDiscovery, Data Loss Prevention, and Data Protection.
About Vault Solutions, LLC:
Vault Solutions, LLC was founded in 2006, and is located in Portsmouth, New Hampshire, USA. It specializes in software that integrates with and adds value to Symantec's Enterprise Vault. Vault Solutions is a Symantec Technology Enabled Partner, a Microsoft Silver Independent Software Vendor (ISV), and a Dell Founders 50 member. For more information visit http://www.vault-solutions.com or call +1.603.319.4020.