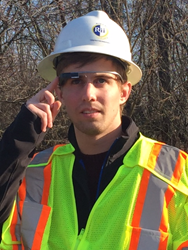 Construction Smart Hat, an advanced version of Rii's iiCollector, is a new platform for project management, construction management, administration and supervision of construction projects
Columbus, Ohio (PRWEB) January 21, 2015
Using ProjectGrid.com®, Resource International, Inc. (Rii) recently unveiled Construction Smart HatTM, an innovative technology using Google Glass® to assess the condition of assets, collect data and create reports during the maintenance and management of infrastructure and facility construction projects.
The Associated Press reported this week that Google Glass is no longer available for public use. However, according to Google, the device will continue to be available to companies engaged in product development using the wearable device, such as Rii's Construction Smart Hat.
Construction Smart Hat, an advanced version of ProjectGrid.com's iiCollectorTM, is a new platform for project management, construction management, administration and supervision of construction projects. This application uses Google Maps API to track, manage and assess elements of transportation, infrastructure, utilities and facilities. The technology is an integration of the iiCollector mobile asset manager and Google Glass technologies to give project personnel and management staff the ability to view and assess project conditions, geo-tag assets in the field, document asset conditions, and store data in a secured data base in a real time.
The Smart Hat captures photos, video, digital information and audio instantaneously through voice commands using Google Glass. The Construction Smart Hat has two components: A Google Glass wearable device, providing the ability for the project managers, construction inspectors and Engineers/Architects to view and collect information while on the move on project jobsites; and the ProjectGrid.com iiCollector technology providing access to office documents, construction drawings, construction specifications and previous reports for review in the field as may be needed. The technology also includes a secured database to store digital information, with recorded comments regarding conditions, non-compliance work-order items and video and photos from the field.
"We believe in the product that we are developing and understand the value that it brings to construction professionals in our industry," said Kamran Majidzadeh,Phd, PE, President of Rii. "Our team is going to continue develop and use in our projects, and when Google releases their improved version of Google Glass, we will be ready."
Google Glass gives users the ability to access digital information more seamlessly, allowing them to capture photos, video and audio instantaneously through voice commands. Collecting data in this way, the Construction Smart Hat enhances the overall safety of the job site, ultimately cutting back time on project inspection. This technology is designed for those who are on the move, making it a perfect aid for construction inspectors and technicians in the field.
Construction Smart Hat uses the best features of Google Glass and integrates them into the mobile data collection software. Technicians in the field can collect data with simple verbal commands. By using these commands, this information is geo-tagged and saved in real time using the password protected ProjectGrid.com website. Assets are color-coded and pinned on Google maps using their location.
The Construction Smart Hat is specifically envisioned as a tool for senior project management staff, Owners Representatives, or other construction professionals who intend to perform audit of project non-compliance work items, review project check-lists and find resolutions for project deficiencies. The A/E/C industry will soon see this technology popping up on construction sites across the US.
About ProjectGrid.com
The ProjectGrid.com technology is currently available nationally, as well as internationally. Our standard ProjectGrid.com® package features include file storage and management, dynamic schedule system, financial management, red lining/revision control, photo album views, public access, tiered security, an RFI system and more. ProjectGrid.com® is available on a project-by-project subscription basis as it is hosted on servers owned by us and also as a customized solution to fit our client's exact needs.
In 2012, ProjectGrid.com was advanced and developed to include a subsequent component, the mobile data collector, iiCollector™. The iiCollector is a flexible customizable asset management system to inventory and rate roadways, utilities and facilities.
Resource International, Inc. is the parent company of ProjectGrid.com.