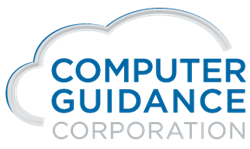 In an increasingly competitive market, embracing innovative technologies and leveraging data are critical to achieving continued success and profitable growth." Keith Schuler, Executive Vice President of Finance, McGough
Scottsdale, AZ (PRWEB) January 22, 2015
Computer Guidance Corporation, a leading developer of ERP software solutions for the construction industry, today announced that McGough, ranked #124 on the Engineering News-Record Top 400 Contractors List, has successfully concluded the implementation of Computer Guidance's flagship Construction ERP Platform—eCMS v.4.0.
McGough, headquartered in St. Paul, Minnesota, is a full service general contractor offering pre-construction, construction, development and facilities management services with six branch offices in the states of Arizona, Minnesota, Iowa and North Dakota. The leading general contractor with nearly sixty years in business serves many construction vertical markets, including corporate offices, data centers, educational, fine arts & cultural, healthcare, historical restoration, hospitality & retail, industrial, manufacturing & warehousing, non-profit, residential, science & laboratories, and worship.
To support its growing business and continue down the path of providing excellent customer service, McGough has decided to upgrade to eCMS v.4.0 and take advantage of the advanced features and innovative functionality the construction platform offers. McGough's eCMS application set includes Financials, Payroll, Enterprise Content Management and Business Intelligence & Analytics with the objectives in mind to improve enterprise-wide business processes and to allow users to visualize and leverage massive amounts of integrated data.
"In an increasingly competitive market, embracing innovative technologies and leveraging data are critical to achieving continued success and profitable growth," stated Keith Schuler, Executive Vice President of Finance, McGough. "With eCMS v.4.0 we will leverage enterprise content management and business intelligence to improve our collaboration and overall productivity."
"For more than 15 years, McGough has trusted Computer Guidance to provide the technologies that streamline their operations and enable growth," stated Mike Bihlmeier, President, Computer Guidance Corporation. "We are pleased to have partnered in their success and we look forward to maximizing their use of big data, mobile, and self service applications to drive real-time collaboration and automation among all key stakeholders."
About Computer Guidance Corporation
Computer Guidance is the software development expert for construction enterprise resource planning solutions. In business since 1981, Computer Guidance has provided its customers with construction financial and project management applications supported by industry-leading business intelligence and analytics applications and advanced productivity tools. Computer Guidance is a premier Business Partner of IBM Corporation, providing a solid technology foundation for both its cloud-based, hosted and on-premise solutions. Hundreds of commercial contractors have implemented Computer Guidance ERP achieving quantifiable benefits year after year. Many Computer Guidance customers are represented among the Engineering News-Record Top 50, 400 and 600 and the On-Site Top 40. Computer Guidance's construction software expertise has led the Associated General Contractors of America to select Computer Guidance's solutions as the ERP solution of choice for its members. eCMS has also been acknowledged by the CFMA IT Survey, ranking its job cost, accounting and payroll applications as the number one software for commercial contractors. In 2013, Computer Guidance received a silver Contractor's Choice award from Roads & Bridges magazine recognizing eCMS as one of the most widely implemented ERP solutions among its readership.
Computer Guidance Corporation became a member of JDM Technology Group in January 2014. JDM Technology Group is a global software business that is exclusively in Construction with 40,000 users served, in 40 countries and in 6 continents, employing 250 staff. JDM Technology Group's core business philosophy is long-term commitment to customer service, coupled with providing the best possible solutions to customers.
For additional information, visit http://www.computerguidance.com or call 888.361.4551.
###
eCMS is a registered trademark of Computer Guidance Corporation, member of the JDM Technology Group.