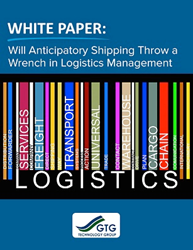 Houston,TX (PRWEB) January 22, 2015
Anticipatory Shipping involves predictive analysis of a customer's online behavior. Amazon's Anticipatory Shipping patent uses historical data on customers' browsing behaviors and buying decisions to predict what customers will want to purchase in the future.
"GTG stays informed on the future of shipping, how it may impact transportation and informing our customers and colleagues. With all the buzz on drones, we thought we would share the implications of these future shipping methods," said Courtney Endsley, Project Manager at GTG.
GTG believes that this shipping model will benefit Amazon's customer because it will allow for faster delivery cycles, as well as an exponential increase in same-day and next day deliveries. GTG also believes this model will generate additional sales for Amazon.
However, GTG feels that the number of inaccurate orders received by customers will cause logistical nightmares for Amazon due to the inability to be 100 percent accurate with predictions. Lastly, GTG suggests that the predictive analysis and big data may be seen as intrusive or offensive to customers.
Therefore, GTG's report is unclear whether or not the pros outweigh the cons of the Anticipatory Shipping model.
"Transportation will always be searching for ways to improve times, movements and customer satisfaction. All those involved in the world of transportation should keep themselves informed on all discussions regarding shipping and customer satisfaction,'" stated Courtney Endsley, Project Manager at GTG.
The new white paper is now available for PDF download at no cost. To read more about GTG's transportation management solutions and to obtain a copy of the white paper, click here.
About GTG Technology Group, LLC:
GTG Technology Group, LLC helps to build software to manage global transportation management systems (TMS) for all sizes of intermodal and drayage transportation companies. GTG is dedicated to providing TMS solutions designed to provide end-to-end visibility and connectivity. GTG's software was engineered to help businesses in the transportation industry overcome challenges faster, cheaper and more efficiently.