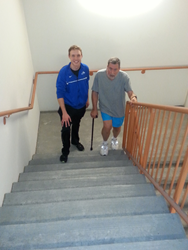 "Once I had moved up to twenty flights I knew I could do all 53,"said Larry.
Chicago, IL (PRWEB) January 21, 2015
Larry Pirovano is limited only by the number of stairs at The Clare. This is ironic given the fact that The Clare is a 53-story high rise and Larry has advanced Parkinson's disease. The 75-year old, who is determined to regain strength and balance that he's lost due to the progressive disease, has been working with The Clare's personal trainer Zach DeCoster. In a few short months, Larry has mastered climbing all of the stairs at The Clare, 53 flights worth, in under 20 minutes.
Larry and his wife Dorothy moved to The Clare eighteen months ago. "We're getting a bit older and we thought going to a retirement community would be a smart move," said Larry. "We looked around. We liked The Clare. The location and amenities were far and above what we saw elsewhere." Being in the heart of the Gold Coast made it easy for Dorothy to keep working as a public relations executive. Larry, who retired from real estate a couple of years ago, likes city living. '"It's easy living here. There's everything you need close by," he said. "There's an excellent chef here, our meals are provided, we don't have to worry about maintaining our home, and we've met some nice people."
Larry was diagnosed with Parkinson's disease 17 years ago. "Fortunately I think it's progressed slowly," he said. The most significant impact, he added, has been on his balance, energy and mobility. Prior to moving to The Clare, Larry would occasionally go to physical therapy. As he read about the positive effects of exercise on the progression of Parkinson's, he decided to up his commitment.
Larry started working with Zach, a fitness specialist at The Clare. "I work with individuals for health-related exercise," Zach said. Several months ago, Larry and Zach started getting together three times weekly. 'Our initial goals were for me to be more mobile and stronger," said Larry. "I've felt a significant difference and people notice a big improvement in how I walk and move. I know I'm better." Larry said that he also falls less often than before he started exercising.
Initially, Larry and Zach worked on the exercise equipment in The Clare's Athletic Club. Gradually they decided to tackle the hallway stairs. "One of the most approachable ways to focus on leg strength, stability and balance is through stair climbing. It hits all of the major muscle groups," said Zach. "We started with about ten flights. Given Larry's Parkinson's, I thought that was great. But what I love most about working with Larry is that he has no limits. Once ten flights were done, he said, 'let's make it twenty, and up'," said Zach. "
"Once I had moved up to twenty flights I knew I could do all 53,"said Larry. He added that if he'd attempted to climb all of the stairs before he began working out with Zach, it would only have been accomplished "if I had two days and packed a lunch." Now Larry can scale the entire building in approximately 20 minutes."
"He has absolutely met my expectations," said Zach. "He has five pound ankle weights attached on each leg, and goes all of the way up. Now we're working on getting a faster time. He's met my expectations but he's never satisfied and is always on to the next milestone."
On Sunday, January 25th, Larry will participate in the AON Step Up For Kids event. The 80-floor stair climb at the AON Building in Chicago is a fundraiser for K.I.D.S.S., an affiliate of Lurie Children's Hospital. "It seems like a good idea. I like the challenge of it," Larry said. Larry, who has thus far raised $1,700 for the event, is among its top ten fundraisers.
Larry said, "Part of my inspiration is to be able to stay healthy and do what I want, like traveling." Larry is also a photographer and takes classes at Northwestern University.
The Clare at Rush and Pearson is a Life Care retirement community in the heart of Chicago's Gold Coast with incomparable lifestyle, amenities and the financial stability only a debt-free community can offer. The Terraces at The Clare, which partners with Northwestern Memorial Hospital, provides assisted living, memory support, rehabilitation and skilled nursing. The Terraces has earned the 5-star quality rating by the Centers for Medicare and Medicaid Services. The Clare is owned by Chicago Senior Care and managed by Life Care Services. For more information visit: http://www.TheClare.com or call 312-784-8100.