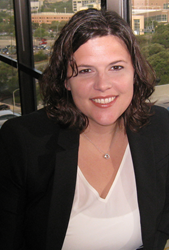 The good news is that lots of research is being done to test new medications that may work better
San Antonio, TX (PRWEB) January 21, 2015
San Antonio researchers say that Sharon Osbourne's fear of developing Alzheimer's disease is a common concern among those with a family history of the disease.
"Alzheimer's Disease is an irreversible condition that is often times passed on through genetics," says Dr. Kate Glywasky, board-certified neuropsychologist at Clinical Trials of Texas (CTT) and board member of the Alzheimer's Association San Antonio and Southwest Texas Chapter.
Osbourne was tested at a university in England and was found to carry two of the four gene mutations linked to Alzheimer's, a disease her father passed away from at the age of 81.
"Although there are some instances where those with Alzheimer's do not carry the gene and those with the gene do not develop Alzheimer's, it is commonly passed through genetics for individuals with early onset type," says Glywasky.
Researchers say that Alzheimer's is a very slow progressing disease and those that develop it actually have the physical conditions connected with it 10 to 15 years before symptoms start to show.
Alzheimer's has been a hot topic not only with Osbourne's recent news, but in the movie world as well with the recent release of Still Alice, a film following the life of Alice Howland, a 50 year old with early-stage Alzheimer's.
"I think that people are definitely starting to think about Alzheimer's because it is heavily impacting the baby boomer generation, those ages 50 to 70 years of age. If you look at the statistics they are alarming. Approximately 11 percent of individuals age 65 and older are suspected to have Alzheimer's disease, and this impacts more than 15 million of their family members and friends," says Glywasky.
Currently there are five FDA approved medications to slow the progression of Alzheimer's, although many physicians say that these medications are not always that effective.
"The good news is that lots of research is being done to test new medications that may work better," says Glywasky. Glywasky is currently involved in new research for those with early-stage Alzheimer's disease.
"We are very optimistic that some of the new medications will help those suffering with this disease," says Glywasky.
About Clinical Trials of Texas
Clinical Trials of Texas (CTT) is one of the leading clinical research organizations in the state. With over 50 board certified physicians, and new Phase I facility, CTT conducts studies in a multitude of therapeutic areas, phases and design types. Working with major pharmaceutical and device sponsors, CRO's, as well as smaller bio-tech companies, CTT successfully and safely continues to lead the way in advanced clinical research. To learn more or to participate in a research study, visit SAresearch.com.