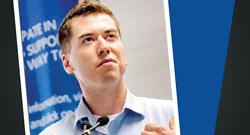 We are very excited to work with this amazing organization in our community. Goshen Valley gives these young boys hope and strength to conquer their hardships and build a promising future.
Waleska, GA (PRWEB) January 30, 2015
With a new charity program in the Waleska, GA area, Billy Johnson Insurance has teamed up with Goshen Valley to support the pursuit of education, providing a young man with the opportunity to triumph over his past and current challenges.
Utilizing its own resources and seeking the help of its own network of customers and business partners, Billy Johnson Insurance marches on to ensure customers, friends, family and neighbors are always in good hands. The agency just recently launched the master charity program of which the current campaign is part of, electing every 60 days a new individual, organization or family in need to receive their support.
The agency will promote the current campaign over the course of the next 60 days, through its social media channels, email communications, and monthly electronic and print magazines, delivered to thousands of households in Roswell and Woodstock, GA. Our Hometown magazine reserves a full page to feature the campaign and details of the cause. The electronic Flipbook version of the current issue can be accessed here: http://www.billyjohnsoninsuranceagency.com/Our-Hometown-Magazine_39.
To join the Billy Johnson Insurance Agency in supporting Goshen Valley and providing these great children with the education they need and deserve, donors are encouraged to visit http://bit.ly/1GRkBZU and share the page with their friends and family. Contributors may be acknowledged for their donations through the agency's monthly magazine.
Once the current campaign is over, the Billy Johnson Insurance Agency will continue to work closely with Goshen Valley and other nonprofit organizations in the area, to make sure resources are directed to capable hands that can help better the local community, one family or person at a time. Information regarding past and current campaigns supported by the Agency can be found at http://www.billyjohnsoninsuranceagency.com/community-cause. More information about Billy Johnson Insurance Agency is available at http://www.billyjohnsoninsuranceagency.com.
About Billy Johnson Insurance Agency
The Billy Johnson Insurance Agency provides modern solutions and professional assistance to help protect families and making sure they achieve their lifelong dreams. The agency's mission is to maximize their customers' control over their own future, helping them stay prepared for any events that might cross their path. To contact an expert at The Billy Johnson Insurance Agency, call 770.992.7013 or 770.516.4011.