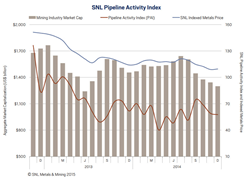 (PRWEB) January 21, 2015
As detailed in the just-published "Monthly Industry Monitor," the final month of 2014 mostly added to the gloomy market conditions that prevailed throughout the year for the international mining industry. December is a period that inevitably sees lower levels of exploration and resource announcements, and last month was every bit as disappointing as expected.
At the end of 2014, the mining industry had a combined market capitalization of under US$1,300 billion, compared with over US$1,343 billion at the end of November and more than US$2,000 billion back in February 2012.
Reflecting the poor market conditions, SNL Metals & Mining's Pipeline Activity Index declined for the third consecutive month in December, although only one of the four constituents of the PAI showed a month-on-month fall: there were drill announcements from only 111 projects, compared with 142 in November.
Although SNL Metals & Mining's indexed metals price improved slightly in December, ending a four-month decline, the net positive value of the industry's project milestones in 2014 was only US$501 billion, compared with US$645 billion in 2013. On an annual basis, the mining industry has just suffered its fourth consecutive year of declining net milestone values.
The other two PAI constituents — initial resource announcements and completed financings — both improved in December, but not by enough to offset the seasonal slump in drilling.
Junior and intermediate companies' fundraising more than doubled from November to US$334.8 million in 32 financings, as some explorers cashed up for the coming season. Despite the month-on-month increase, December's total fell short of the US$463 million raised in December 2013, and was the lowest December total since before SNL began tracking financings in 2008. The 2014 total of US$5.55 billion in 329 financings was moderately short of the US$5.92 billion in 399 financings in 2013.
There were four initial resource announcements in December, with a total in-situ value of US$11.79 billion — mostly from NGEx Resources Inc.'s Filo del Sol copper project in Argentina. The year ended with a total of 50 new resources valued at US$130.6 billion, compared with 68 valued at US$87.1 billion in 2013.
To access the full PDF, please visit click here.