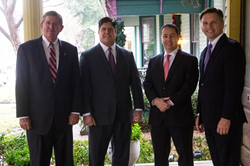 Dallas, TX (PRWEB) January 29, 2015
Today, Broden & Mickelsen, a criminal defense firm lead by Clint Broden and Mick Mickelsen, officially announces it is Broden, Mickelsen, Helms & Snipes, LLP.
The new partnership expands on the vast Federal and Texas trial experience of Clint Broden and Mick Mickelsen. The firm is also one of only four in the Dallas area certified in criminal appellate law. Helms and Snipes add experience in commercial litigation and military representation.
"This is an ideal merger of experience and talent. Both Snipes and Helms have a history of success that aligned with the firm, it's a bonus they are well known in the legal community," said Clint Broden, Partner and Attorney.
Mike Snipes was formerly the judge of Dallas County Criminal Court No.7, recently involved in the high profile case of Eric Williams. Snipes is also a decorated Army Colonel, and began his law career decades ago as a trial defense counsel in the Army's 7th Infantry Division. His civilian law career spans decades as a Federal Prosecutor for the Northern District of Texas and most recently as a judge in criminal court.
John Helms was formerly running a solo criminal defense law and commercial litigation practice before joining the new partnership. Helms' successful law career includes a mixture of service solo, in larger law firms and in public practice both in prosecution and in criminal defense. In commercial litigation, Helms has defended Bank of America, Microsoft, Phillip Morris and other large corporations.
"The diversity of experience and history of public service of our new partners, will only help clients receive the best defense," said Mick Mickelsen, Partner and Attorney. "We ultimately formed this new firm, to compete and become one of the strongest criminal defense teams in the county."
About Broden, Mickelsen, Helms & Snipes
Broden, Mickelsen, Helms & Snipes is a Dallas based criminal defense law firm between Clint Broden, Mick Mickelsen, John Helms and Mike Snipes. All attorneys represent clients for state crimes throughout Texas and nationwide for Federal crimes. Clint Broden and Mick Mickelsen are board certified in criminal law and criminal appeals, defending clients at all stages of trial. The criminal defense firm also handles commercial litigation with experience defending some of the largest corporations in the country.
The firm was founded in 1998 in Dallas, TX. It is located on 2600 State St, Dallas, TX 75204. Among all partners, awards from D Magazine, Super Lawyers and Avvo recognize Broden, Mickelsen, Helms and Snipes as a top attorneys in the area.