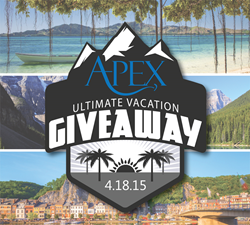 It's our way of giving back to our patients.
West Jordan, UT (PRWEB) January 22, 2015
One of Utah's largest dental companies, Apex Family & Cosmetic Dentistry, is giving away a $10,000 vacation package to one of its patients on April 18th, 2015. The prize is being given away in conjunction with Apex's annual Patient Appreciation Event.
Apex Dental will be offering the choice between four different vacation packages to the grand-prize winner. Each package is designed to align with a broad range of potential interests, including options for couples, individuals, or entire families.
Participation in the giveaway event is open to all current patients at any of Apex Dental's five Utah locations. Participants can enter through the company's official Facebook page at http://www.facebook.com/apexfamilydental by clicking on the tab labeled "Giveaway", as well as earn additional entries by referring new patients to any Apex office location.
This is not the first time Apex Dental has hosted a large giveaway event for their patients. Last year, Apex Dental gave away $10,000 as part of their Patient Appreciation Giveaway. The year previous, they gave away a 2013 Kia Soul.
"It's our way of giving back to our patients," Dr. Joe Maio, CEO and owner of Apex Family & Cosmetic Dentistry, said. "Without their patronage and loyalty, we wouldn't even have the ability to give away such a great prize to begin with."
Contest registration is now open, and will continue until the week of April 13th, 2015, in which 49 finalists will be selected to attend the giveaway event. At the final event, to be held at 4pm at The Gathering Place at Gardner Village, the finalists will be pared down until only three remain. From among the final three, a grand-prize winner will be determined.
Apex Family & Cosmetic Dentistry is a Utah dental office featuring full-service dental care for patients of all ages, including dental implants, orthodontics, preventive dentistry, laser dentistry, extractions, root canals, and all forms of cosmetic dentistry.
Full official contest rules can be viewed at the contest page at http://www.facebook.com/apexfamilydental, or at the following URL: http://www.apexfamilydental.com/vacation-giveaway.