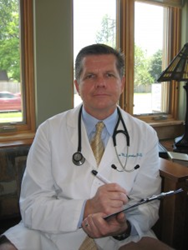 Lisle, IL (PRWEB) January 20, 2015
Naperville, IL dentist, Dr. Kaz Zymantas is currently expanding his patient base to include residents of Lisle who would like to replace their missing teeth with the natural appearance and feel of dental implants. This permanent tooth restoration option allows patients to eat and speak without dealing with some of the potentially embarrassing side effects of dentures. There is also no need for a removable appliance when implants are used, so patients only worry about caring for the implants like they would care for their own natural teeth.
Natural teeth do more for the mouth than simply allowing patients to chew their food. When patients lose their teeth, there is no longer anything left to stimulate the jaw bone to keep it strong and healthy. Deterioration of the jaw bone will begin to occur if the situation is not rectified, and in severe cases, the bone loss can become so severe that the jaw and face become irreparably deformed. Dental implants are the only way for Lisle, IL patients to avoid this scenario because they are the only replacement for missing teeth that work and act just like natural teeth.
An implant consists of a titanium root, a traditional crown that looks like a natural tooth, and the abutment piece that connects the two sections. The titanium implant is surgically placed within the jaw and fuses to the bone in a process known as osseointegration. After a healing period, the abutment and crown pieces are fitted to complete the implant. This simple process, and the strong bond created between bone and implant, allow Dr. Zymantas to perform the procedure with just one or two teeth, or an entire mouthful of teeth.
Lisle, IL patients with missing teeth no longer have to hide their smiles. With dental implants, Dr. Zymantas can restore patient smiles so that no one knows that any natural teeth are missing. Those who are interested in learning more about implants and how they may be beneficial in various circumstances can contact the doctor's office for more information.
About the Doctor
Dr. Kaz Zymantas is a general dentist offering personalized dental care for patients in Naperville, IL for over 30 years. Dr. Zymantas received his Doctor of Dental Surgery from the University of Illinois and has earned a fellowship in the American Academy of General Dentistry, an honor belonging to only three percent of dentists in the world. Dr. Zymantas is part of one percent of dental professionals providing the LANAP FDA cleared laser procedure for gum disease and periodontal treatment. To learn more about Dr. Zymantas and his dental services visit his website at http://www.lanapnaperville.com.