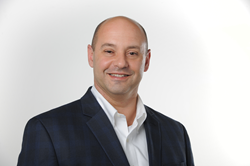 Atlanta, GA (PRWEB) January 22, 2015
Micron Optics, Inc., a global leading innovator and provider of fiber optic sensing systems and tunable laser technology, is pleased to announce the appoint of Mr. Scott Riggi to its senior leadership team as Vice President of Sales in the U.S. and Canada.
"Scott's wealth of leadership experience and industry knowledge in optical based products and instrumentation sales make him the ideal addition to our Micron Optics sales team," said Tom Graver, Senior Vice President of Global Sales at Micron Optics, Inc. "I'm confident that Scott will play a key role in enhancing our growth strategy and providing the exceptional customer care that we are known for as we continue to build our brand and maintain our leadership position in fiber optic sensing."
Mr. Riggi comes to Micron Optics after having served as Vice President of Worldwide Sales at Block Engineering, a market leader in the development of quantum cascade laser technology and MEMS based Fourier Transform Infrared Spectroscopy solutions. Prior to his role at Block Engineering, Mr. Riggi held executive leadership roles as Director of Sales for the Americas at Princeton Instruments, Thermo Fisher Scientific and the Danaher Corporation where he was instrumental in growing sales for a variety of optical based products and analytical instrumentation. An electrical engineer by education, Mr. Riggi received his Bachelor of Science degree in electrical engineering from Wentworth Institute of Technology in Boston, Massachusetts and worked as an RF semiconductor design engineer for ten years at AMP.
Mr. Riggi commented, "Micron Optics continues to demonstrate clear leadership in the advancement of optical sensor technology and tunable filter products. This is an exciting time across multiple vertical market segments that are just recently recognizing the benefits of how fiber optic sensors can deliver significant enhancement to critical monitoring needs. It is a pleasure to be joining such a technology innovator with enviable brand name recognition and outstanding product quality. I look forward to building upon that solid foundation to grow the business during these exciting times."
About Micron Optics, Inc.:
Micron Optics' (http://www.micronoptics.com) optical sensing and tunable filter products make impossible measurements possible, revealing new, critical information for infrastructure, energy, transportation, medical and industrial sectors. Since 1990, Micron Optics has been expanding its core capabilities from tunable optical components and leading-edge instrumentation and software, to complete optical sensing systems. Micron Optics is a privately held company with headquarters in Atlanta, Georgia, USA. For more information, visit http://www.micronoptics.com.
Marketing and PR Contact:
Megan Johnson
Marketing & Administrative Assistant
Micron Optics, Inc.
Phone: +1.404.325.0005 ext. 265
Email: marketing(at)micronoptics(dot)com