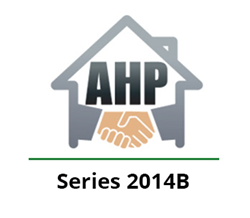 Chicago, IL (PRWEB) January 21, 2015
American Homeowner Preservation ("AHP") today launched one of the largest crowdfunding campaigns to date, planning to raise $30 million for opportunity 2014B. Funds raised will be utilized to purchase non-performing mortgages at substantial discounts from banks and other lenders. Borrowers are then offered sustainable solutions to stay in their homes with affordable payments and reduced principal balances. Accredited investors can earn annual returns of 9 – 12%* by participating for terms of one to five years.
AHP is a socially-responsible for-profit investment fund manager, but started in 2008 as a 501c3 nonprofit organization. By executing consensual borrower-friendly strategies which avoid the time and expense of protracted legal fights, AHP generates above-market returns for investors while helping struggling families. Delinquent mortgages are often purchased at discounts greater than 50% of current property values, and sharing these discounts enables AHP to deliver financially transformative results for borrowers and investors alike.
To maximize the results of outreach efforts, AHP houses a branch office of Security National Servicing Corporation to effectively and efficiently communicate with borrowers nationwide. Furthermore, AHP features an in-house litigation team to rapidly resolve litigation. If properties are acquired vacant or are foreclosed upon, AHP's asset management team works with real estate agents to market and coordinate the sales of vacant properties.
AHP's latest investment offering comes on the heels of its latest investment closing, Opportunity 2014A. AHP raised $2.5 million in funding the purchase of over 325 mortgages with an estimated collateral value of more than $8 million. After launching its online crowdfunding platform in October 2013, AHP has successfully crowdfunded three pools of distressed mortgages and raised more than $8 million from accredited investors.
2014B is the first offering spawned from AHP's new relationship with WealthForge, an SEC/FINRA registered broker-dealer. As regulation of the equity crowdfunding industry continues to evolve, AHP aims to maintain up-to-date SEC compliance in teaming with WealthForge.
"We are excited by the prospects of our new alliance with such a well-regarded broker-dealer," said Jorge Newbery, AHP's founder and CEO. "WealthForge will help us maximize compliance in an ever-evolving regulatory landscape. These are big steps forward in legitimizing AHP and other real estate crowdfunding platforms which are joining the FinTech asset class pioneered by Lending Club and Prosper."
"In my opinion, his (Newbery's) approach is similar to finding great 'closeouts' in any business," said Arthur Weissman, WealthForge's head of sales and marketing. "He invests the time and effort to identify significantly undervalued assets and his team is relentless at bringing those assets back to performing levels."
American Homeowner Preservation is a socially responsible investment fund manager which empowers accredited investors to purchase equity in pools of distressed mortgages and earn returns of 9-12%*. For further information or inquiries please visit https://ahpinvest.com or call 800-555-1055.
*Past performance is no guarantee of profits or gains. Equity securities are offered through
WealthForge, LLC, a Virginia limited liability company ("WealthForge"), which is a securities
broker/dealer registered with the U.S. Securities and Exchange Commission and a member of the Financial Industry Regulatory Authority, Inc. WealthForge is located at 6800 Paragon Place, Suite 237, Richmond, VA 23230, tel: (804) 308-0431.