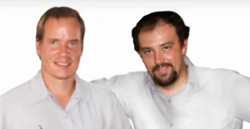 By avoiding service writers we stay true to our policy that we never try to sell unnecessary repairs or services.
Mesa, AZ (PRWEB) January 27, 2015
After analyzing their sales for 2014, Crawford's Auto Repair, Mesa, discovers that they've had steady growth in their business for the 3rd year in a row. Co-owners Jeff Crawford and Brad Weiss went into business for themselves in February 2012. They attribute their growth to supreme customer service, an uncommon business model for auto repair shops, and a marketing strategy that fits their philosophy.
Their customer service and their business model are based on their refusal to hire service writers. When customers walk into the door at traditional auto repair shops, they're greeted by a sales person who records the symptoms of the vehicle and then passes the information to the technician. Hiring service writers makes sense for traditional auto repair shops since mechanics are not usually trained in customer service. However, one of the reasons Jeff and Brad started their own business is they noticed some flaws in this system. Since the service writer stands between the customer and the technician, the gap in communication can result in a misdiagnosis of the vehicle, especially if the service writer guesses what's wrong with the vehicle before asking the technician to perform the inspection. Also, the service writer's job is to increase sales, so it's not uncommon for them to add unnecessary fees or services to the bill.
"By avoiding service writers, we stay true to our policy that we will never try to sell unnecessary repairs or services," Jeff says. When customers are searching for a Mesa auto repair shop, they may find that the experience at Crawford's Auto Repair is different from the standard auto repair shop. Since there are no service writers, that means customers speak directly to the one of the owners when they call or come into the shop, and both owners are dealership-trained technicians. Even when they have to hire additional technicians to share the work load of a growing business, they only hire technicians who can do the job as well as they do it, and customers still talk to the owners. Combine that with a thorough and free inspection of every vehicle, and a walk-through of their findings with each customer, and that's their recipe for supreme customer service.
So far, customers are responding with a nearly perfect satisfaction rate, as demonstrated by a steady increase in positive reviews for Crawford's Auto Repair on review websites like Yelp, Google, Facebook, Angie's List and others over the past year. Also, a large portion of new customers comes from direct word-of-mouth referrals. As Crawford's continues to grow, they may try other marketing channels. However, they're hesitant to distribute coupons or have sales with loss-leaders because they don't like the "bait and add" approach to getting new customers. Their goal is to maintain the integrity of their reputation so that when they tell a customer she needs additional repairs or maintenance, she can be sure that the reason is to keep her car running smoothly and efficiently, not simply to increase sales.
Crawford's Auto Repair is located at 2855 S Alma School Rd, Suite 107, Mesa, AZ. For questions or more information, call to speak to the owner at 480-201-0740 or visit their website at http://www.CrawfordsAutoService.com.