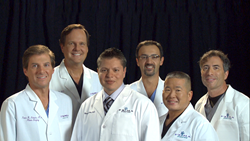 It's wonderful to know so many lives have been changed by breast reconstruction, and I am thankful to our team of surgeons who dedicate so much of themselves to make such an impact."
San Antonio, TX (PRWEB) January 22, 2015
One of the world's largest and most renowned breast reconstruction centers hit a milestone this week, performing its 6,500th breast reconstruction surgery, of which 5,500 were microsurgical (free flap) procedures.
"This is a huge accomplishment for our team," says PRMA co-founder Dr. Peter Ledoux. "It's wonderful to know so many lives have been changed by breast reconstruction, and I am thankful to our team of surgeons who dedicate so much of themselves to make such an impact."
PRMA is one of very few centers Worldwide performing such a high volume of complex breast reconstruction procedures.
"Breast reconstruction is what we do," says PRMA surgeon Dr. Chet Nastala. "Its our passion. We perform perforator flap procedures on a daily basis and that's why people come to us."
Many women travel from across the U.S. to San Antonio for the sought-after DIEP flap procedure which uses the patient's own skin and fat to reconstruct the breasts "naturally" after breast cancer.
There are only about 40 surgeons across the country that perform perforator flap surgery like the DIEP flap on a regular basis.
"We have certainly come a long way in the past 20 years of PRMA. I am so thankful to be part of such a great team," says Ledoux.
About PRMA
PRMA Plastic Surgery in San Antonio, Texas, specializes in state-of-the-art breast reconstruction. Procedures offered include the DIEP flap, SIEA flap, GAP flap, TUG flap, fat grafting, Alloderm One-Step, vascularized lymph node transfer and nipple-sparing mastectomy. PRMA is In-Network for most US insurance plans and routinely welcomes patients from across and outside the US. Connect with other patients in our breast reconstruction community on Facebook.