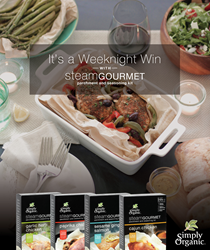 "The parchment bags seal in the dish's flavor and the aroma of our organic spices," added Bouchard. "It's a simple as season, steam and savor."
Norway, Iowa (PRWEB) January 21, 2015
Getting a wholesome weeknight dinner on the table with time to spare is a cinch with Simply Organic's new Steam Gourmet steam-in-parchment kits. These newly launched meal kits offer a simple way to prepare a delicious meal at home with style, ease and confidence.
Blending Simply Organic's spice expertise with a time-proven cooking style, the steam-in-parchment kits provide a way for people to create a homemade meal and still have time to do the things they love outside of the kitchen – without sacrificing taste or quality.
"Consumers get a perfectly seasoned, wholesome meal with minimal prep plus an easy clean up," said Ellen Bouchard, senior brand manager, Simply Organic. "We call that combination a weeknight win."
Simply Organic's carefully crafted organic seasonings and parchment bags are the key to mastering this French culinary style of cooking called, "en papillote," which involves sealing food in parchment paper to cook in the oven with steam.
"The parchment bags seal in the dish's flavor and the aroma of our organic spices -- leaving you with a moist and delicious meal," added Bouchard. "It's a simple as season, steam and savor."
Steam Gourmet contains two seasoning packets and two parchment bags to make two complete entrees that serve four (each). Sprinkle seasoning mixes on your favorite meat or vegetable, seal the seasoned ingredients inside the parchment wrap, and place in the oven. In 30 to 40 minutes, dinner is complete without the addition of fats or oils.
Kits are available in four flavors:

Garlic-n-Herb Chicken
Paprika Chicken
Sesame Ginger Salmon
Cajun Chicken
Look for Steam Gourmet in stores nationwide and online now.
Additional recipes, meal plans and inspiration can be found at: http://www.simplyorganic.com/steam-gourmet.
Simply Organic®
Simply Organic®, an all-organic brand from Frontier Co-op™, offers an extensive and growing selection of certified organic spices, seasonings, and baking flavors while supporting organic agriculture around the globe. By providing the best available organic seasonings and donating one percent of sales to organic agriculture and education, Simply Organic genuinely offers "Pure.Simple.Joy." Find out more about Simply Organic at http://www.simplyorganic.com.
Frontier Co-op™
Founded in 1976 and based in Norway, Iowa, Frontier Co-op offers a full line of natural and organic products under the Frontier, Simply Organic®, Aura Cacia® and Aura Cacia Organics® brands. Products include culinary herbs, spices and baking flavors; bulk herbs and spices; and natural and organic aromatherapy products. Frontier's goal is to provide consumers with the highest-quality organic and natural products while supporting and promoting social and environmental responsibility. For more information, visit Frontier Co-op's website at http://www.frontiercoop.com