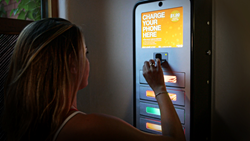 HCEA Summit attendees will enjoy unlimited charging sessions via Brightbox lockers. Top marketers and exhibitor teams can rest assured that their phones are safely and optimally charged in a station that delivers both data privacy and physical security.
New York, NY (PRWEB) January 21, 2015
Brightbox, Inc. (http://www.brightboxcharge.com), the leading platform provider of networked, mobile charging lockers, is pleased to announce it will be enhancing the attendee experience with its Brightbox® Mark3 Mobile Charging Platform at the 2015 HCEA Healthcare Convention and Marketing Summit at the Hyatt Regency Boston, on January 22nd.
The Marketing Summit, organized by the Healthcare Convention and Exhibitors Association (HCEA), brings together leading healthcare exhibit marketers, medical association meeting and exhibition directors, as well as reps from exhibit design, creative marketing and convention services companies to discuss and explore insights and tips on medical marketing and compliance, research on the meetings industry and innovative approaches to healthcare promotions and exhibits. The 100 plus attendee event features panel discussions, presentations and a networking luncheon.
Brightbox is a B2B kiosk technology solutions company and the global leader in developing and deploying phone charging kiosks. The new Brightbox® Mark3 mobile charging platform is the most intelligent and innovative, secure mobile device charging solution available today, enabling consumers to continue to communicate, navigate, search, shop, share, pay and play on their mobile devices. Users simply swipe a credit/debit or complimentary card to open an available station chamber, plug in their mobile device, close the chamber and return later to swipe the same card to retrieve their charged phone.
The Brightbox customizable, charging amenity features a strong messaging platform that is ideal for brand and sponsorship opportunities. High resolution interactive touch screens with short video and slide show capabilities provide innovative delivery of messaging, offers and brand promotions. Exclusive offers are also available via branded key cards specifically tailored for customers and events.
HCEA Summit attendees will enjoy unlimited charging sessions via Brightbox lockers available throughout the conference. Top marketers and exhibitor teams can attend sessions, network, take meetings and work, resting assured that their phones are being safely and optimally charged in a station that delivers both data privacy and physical security.
Brightbox is the latest technology that can be customized to client need and is ideal for marketing and exhibitions. The Brightbox® Mark3 features a 10" interactive touch screen, customizable swipe cards and a strong brand-messaging platform. The UL and agency certified stations ensure the physical security and data integrity of phones being charged, are PCI compliant with a best-in-class encrypted card reader and meet the highest standards for safety and security. They offer retractable charging cables and larger chambers that can accommodate nearly any mobile device, including the latest phablets, while delivering the safest fast charge possible at optimized manufacturer recommended rates.
"We're pleased that HCEA recognizes the value of having Brightbox as the charging amenity for their Boston Summit," said Don Rossi, Senior Vice-President of Sales for Brightbox. "We're looking forward to connecting with top marketers and brands in the healthcare exhibition space and enhancing their experience by keeping them charged, delighted and engaged.
About Brightbox
Brightbox® is B2B kiosk technology solutions company providing global venues and users with the best-in-class mobile device charging platform for marketing, sponsorship and venue interaction. Founded in 2011 and based in New York City, Brightbox delivers intelligent and innovative charging solutions and has deployed its secure charging lockers in 3 countries (the United States, Brazil and the Netherlands) and 20 states in a variety of event and vertical markets that include hospitality, entertainment, healthcare, retail, education, transport and government.
Event customers include AOL, AdWeek, American Airlines, BBC Comic Con, CEDIA, Discovery Channel, Detroit Grand Prix, Event Tech, IBM, IMEX, Inc. 500/5000, New York Fashion Week, New York Times Travel Show.
Enterprise customers include Hilton, Hyatt, Sheraton, Omni, Dream, Caesars, MGM, Heineken, RadioShack, Westfield Malls, Time Warner Cable, Christie's, New York Red Bulls, Tampa Bay Rays, Baystate Health, Hospital for Special Surgery, Mount Sinai Health, Orlando Health, Yale New Haven Health, American Airlines, British Airways, Columbia University and BR CHARGE. Learn more at http://www.brightboxcharge.com @brightboxcharge
About HCEA
The Healthcare Convention & Exhibitors Association (HCEA) is a trade association representing organizations united by their common desire to increase the effectiveness and quality of healthcare conventions and exhibitions as an educational and marketing medium. HCEA promotes the value of exhibits as an integral part of healthcare meetings.
Since 1930, HCEA has provided healthcare exhibitors, medical associations, and suppliers a forum for the exchange of mutually beneficial information and ideas. HCEA offers its members a continuing opportunity to become more knowledgeable in their profession through meaningful communication, the exchange of ideas with other members, and the many services provided exclusively to HCEA members. Learn more at http://www.hcea.org