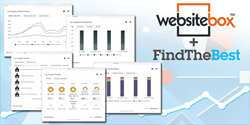 Buyers who find useful content on your real estate website will spend more time on your site and are more likely to call on you when they are ready to buy.
Toronto, Ont. (PRWEB) January 22, 2015
What do homes typically sell for in this neighborhood? What are the area's demographics? How many students are enrolled in the local elementary school?
Prospective homebuyers want answers to questions like these before they get serious about purchasing property in a particular location.
That's why WebsiteBox, the technology company that provides real estate professionals with complete websites for a one-time $99 fee, today announced a partnership with FindTheBest, a research engine that provides detailed information on thousands of topics, including real estate and local places data. The partnership will allow WebsiteBox users direct access to FindTheBest's data on property sales trends, commuting options, area weather, and more -- giving homebuyers the answers to important questions they trust agents to answer.
"The data generated from FindTheBest is presented to home buyers in charts that are good looking and easy to understand," said Peyman Aleagha, founder and chief executive of WebsiteBox. "And, of course, buyers who find useful content like this on your real estate websites will spend more time on your sites and are more likely to call on you when they are ready to buy."
Starting now, WebsiteBox users will be able to enhance their site with direct access to data from FindTheBest, presented in an easy-to-understand visual. These visuals will be automatically included for new users. Existing users can add the content at no additional cost. Information on how to add FindTheBest's data visuals to WebsiteBox websites is available here: http://community.websitebox.com/websitebox/topics/how-to-enable-find-the-best-date-for-your-community
"This partnership with WebsiteBox is an exciting application of our technology that we're confident will help WebsiteBox users and homebuyers in the tedious process of researching the place a person plans to call home," said Alex Rosenberg, senior director of new products at FindTheBest.
About FindTheBest
FindTheBest is a technology company focused on collecting and interpreting data. For consumers, FindTheBest operates a number of trusted data-driven research websites, spanning consumer products (findthebest.com) to real estate (findthehome.com). For content creators, the company offers several solutions for improving audience engagement with embeddable, interactive data visuals. More information is available at http://www.findthebest.com, or by contacting Hillary Foss at hfoss(at)findthebest(dot)com or (805) 617-1863.
About WebsiteBox
WebsiteBox offers do-it-all real-estate websites for a one-time $99 fee – the lowest price in the market. More information is available at the WebsiteBox website, and by contacting Marketing Manager Chad Bhalla at chad(dot)bhalla(at)websitebox(dot)com, or (866) 857-1657 x1113.