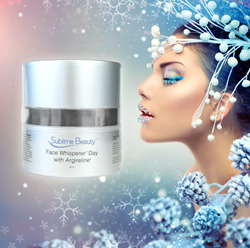 Skin needs extra attention in winter, and Sublime Beauty offers some help.
St. Petersburg, FL (PRWEB) January 21, 2015
The winter can be especially harsh on skin. Sublime Beauty® offers skincare tips to help overcome the problems.
There is little moisture in the cold, dry air of winter and this lack of moisture dries out skin. Skin can become flaky, irritated and cracked; wrinkles are more pronounced.
"Skin needs a little extra attention in winter, especially in colder climates," says Kathy Heshelow, founder of Sublime Beauty®. "We offer 5 tips that can help."
1) Skin Brush the body daily and the face several times per week. Skin Brushing will help improve circulation, distribute oils and move the lymphatic system, but it will also help remove dry flakes. Learn all about Skin Brushing and Sublime Brushes on the special website.
2) Follow Body Brushing with application of pure oils, like the Daily Body Oil. Oils will penetrate well, moisturize and hydrate skin in a superior way, and also offer vitamins, minerals and other nutrients the skin - and body - need. The Daily Body Oil contains jojoba, sesame oil, sweet almond, argan oil and aloe - and no chemicals or additives.
3) Don't scrimp on a good moisturizer for the face, and use it at least twice daily (morning and night) - and more if needed. The Face Whisperer® Day Cream is an ideal choice: it won't clog pores, includes great botanicals like cucumber, carrot, avocado, aloe and sweet almond along with Argireline (known as the natural botox) to relax wrinkles.
4) Many overlook the neck and décolleté, and it is especially fragile in winter. Slather on a rich cream like Face Whisperer® Neck & Decollete which includes coconut oil extract, arnica, lemongrass, aloe and green tea. This cream is $10 off if purchased with the day cream on Amazon.
5) Treat skin to a moisturizing mask, like the Collagen Antioxidant Luxury Mask. It will replenish skin, soften and fortify your skin for the continuing winter weather. The mask is spa-quality. Just 10-15 minutes once weekly will help skin enormously.
Sublime Beauty® products are available on Amazon.com which now ships internationally; on its own webstore, which offers free shipping and a VIP Club; and products will soon be on Amazon.uk and Canada. The company emphasizes healthy skin care along with a niche in Skin Brushes.