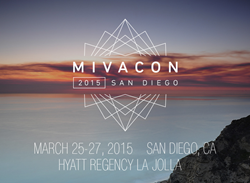 MivaCon is the single best showcase for ecommerce success when you're talking about Main Street Merchants – Rick Wilson, President of Miva
San Diego, CA (PRWEB) January 21, 2015
The annual ecommerce conference hosted by Miva, encompassing e-commerce innovation and best practices, will return to San Diego for its national event in 2015.
Concentrating on e-commerce technologies, SEO, conversion optimization, selling on marketplaces such as eBay and Amazon and other online retail related topics, MivaCon is for storeowners, web professionals and business professionals alike to network and share the latest in e-commerce technology.
The breakout session courses will concentrate on industry best practices, optimizing workflow and e-commerce trends, and concluding with an open discussion Q&A.
The event follows a two-day format that allows attendees to select which breakout sessions mean the most to their business. In between breakouts and at their convenience, attendees can also gain first-hand knowledge with on-site one-on-one evaluations with Miva's team of in-house experts.
"MivaCon is the single best showcase for ecommerce success when you're talking about Main Street Merchants" – Rick Wilson, President of Miva
We have 6 hours of Keynote sessions and approximately 50 hours of specialized content in our breakout sessions. MivaCon is the must attend event of 2015 to grow your ecommerce business.
MivaCon15 will be held at The Hyatt Regency La Jolla, CA. For more information, visit the MivaCon15 website at: http://www.mivacon15.com