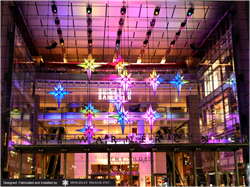 Bringing our clients' creative vision to life.
New York, NY (PRWEB) February 23, 2015
Matthew started his career thinking big, bold and out of the box and has never looked back. His first assignment produced an over the top lighting design that cladded the entire Bloomingdales building on 59th Street and Lexington Avenue. His next iconic design was the world renowned Snowflakes sound and light show on the facade of Saks Fifth Avenue across from Rockefeller Center. In 2005, he imagined Holidays Under the Stars for The Time Warner Center. Here, he designed 12-14 foot stars and set the stars to music for the largest indoor RGB sound and light show ever created. He is responsible for redesigning the big red LED ribbon that wraps the Cartier Building on Fifth Avenue and 52nd Street. Schwam is also charged each holiday season with decking the halls of Macys, Lord and Taylor, Polo Ralph Lauren, The Chrysler Building, The Met Life Building, The Bloomberg Building, The World Financial Center and office buildings nationwide for Tishman Speyer Properties. The common thread with all of the work is the way each design reflects the unique values of the customer and withstands the test of time. The new website is a retrospective of the work that Matthew Schwam and Holiday Image have delivered to New York City over the past decade.
The site is not only a portfolio of iconic work that attracts herds of tourists and locals to New York City each holiday season, but it also reflects the work Holiday Image has delivered nationwide to major retail chains including Gap, Sephora, Victoria's Secret, Ann Taylor and more.
"As we contemplated the content of our new site, we wanted to celebrate our customers and the work we've done for them. But we also wanted to provide useful tools for commercial clients and ordinary DIY consumers alike to find inspiration for up and coming projects, whether for their property, retail store or home." said Matthew Schwam.
The new Holiday Image site features full factory direct selections of Christmas trees, Ornaments, Florals, Fixtures and other decorative props. The Holiday Image strategic overseas partnerships provides our clients with unlimited access to the Holiday Image factory base and all of the manufacturing capabilities. The client leverages their desire to create custom design features and save money with their ability to fill containers. The new site gives our existing and new clients access to literally thousands of beautiful seasonal items to browse at their leisure, use as inspiration and ultimately leverage for purchasing.
The new site also features Retail Image, Holiday's new sibling. Retail Image is offering free standing fixtures to retailers with a discerning aesthetic and a need to build something custom that cannot be found anywhere else. Retail Image provides restaurant designers with high level bespoke design manufacturing to realize the design vision. Like Holiday Image, Retail Image will leverage custom design and price benefits with it's overseas factory producers for the ability to fill containers.
If you want to see a 10 year history of Matthew Schwam's work in New York City and The US, visit http://www.holidayimagellc.com and be inspired.
Please send your comments or inquiries to matthew(dot)schwam(at)holidayimagellc(dot)com. Visit the new website at http://www.holidayimagellc.com.