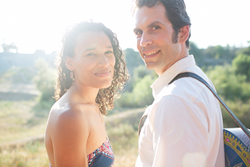 "May all beings be happy, may all beings be joyful, may all beings be at peace and may I serve their freedom."
Boulder, Colorado (PRWEB) January 22, 2015
Four years since the release of their debut recording Love is King, Love is Queen – which coincided with the marriage of Avasa & Matthew Love – the duo are pleased to announce their second album, THE ROAD, which is scheduled for release through White Swan Records on February 24, 2015.
THE ROAD offers the artists' heartfelt message that there is a sacred path available to all of us to walk out of the mire of our unconscious suffering and ignorance. That this path is right within our own hearts. These songs, inspired by moments of connection with their innermost Being, are shared expressions of Divine Love intended to encourage the pilgrimage towards our own inner light.
This album is an epic soundtrack for the hero's journey. Blending inspiration from various cultural traditions, its instrumentation is centered around the acoustic guitar and harmonium played by Avasa and Matthew, orchestral strings composed by Robin Livingston with additional solos by Steve Gardner, flute from Todd Boston (who has played with such notable artists as Snatam Kaur and Simrit Kaur), tabla by Benjy Wertheimer, and percussion from Gabriel Harris (the son of Joan Baez). The album travels through etheric atmospheres, celebratory melodic chants that bring you to your feet to dance, distinct devotional ballads and mantra, and lullabies of light. Avasa and Matthew crafted this body of music to galvanize the listener toward true love and freedom within.
Avasa comes from a deeply musical family. She sang in choirs and musicals throughout her childhood in upstate New York and Connecticut, and began composing original material in her early twenties. Matthew, a native San Franciscan who grew up at Pt. Reyes National Seashore in Marin County, taught himself guitar at age fourteen and found inspiration in singing and playing; he formed and led many bands throughout his teens and twenties as lead singer and composer. The two met in the fall of 2008, and love quickly blossomed -- along with the discovery of their shared passion for music.
They married in 2010 at "Love Field" on the family land in Pt. Reyes where Matthew grew up, and soon released their debut recording, produced by Marin-based soundsmith Robin Livingston. The sound they developed is a relaxed, tuneful blend of world, pop and their own unique devotional soul music, with anthemic aspects to many songs that are greatly enhanced by the duo's distinctively rich vocal chemistry. Their influences are diverse; past influences range from James Taylor and India Arie to Bob Marley and Tracy Chapman; they currently cite Beethoven, Carlos Nakai, Deva Premal & Miten, and Krishna Das as inspirations.
As husband and wife, Avasa and Matthew also share a deep commitment to serve God and humanity through their creative gifts, cultivating inner peace through music that uplifts the heart and restores the spirit. Their strong, evocative voices blend compellingly as they share the intimate, organic compositions that they've co-created in the simple peace of their Los Angeles home. They share songwriting credits, writing both independently and together -- always with the clear goal of creating music that nourishes the soul and inspires each listener to join them on "the road" to find one's guiding moral compass in life. What they create is toe-tapping, heart-opening, incredibly catchy music that sticks with you, reassures you and makes it hard indeed not to dance and sing along.
Producer Robin Livingston has worked extensively with devotional music luminary MC Yogi and the groundbreaking Laya Project, among many others. Much of this second collaboration with Avasa and Matthew was recorded in his home studio in Marin County, described by Avasa and Matthew as a "creative oasis." Some was also recorded in the San Diego studio of the Loves' dear friend Jason Mraz. The support of this team, along with artistic director Jonathan Marro and the fans who made the recording possible through the album's crowd-funding campaign, was essential in refining THE ROAD into a pure yet eminently accessible expression of Divine Love and the universal human quest for inner peace -- that brings you to your feet and into your heart.
In their young career, Avasa and Matthew have already shared the stage with numerous artists, including Jason Mraz, Ben Lee, The Luminaries and MC Yogi, to name a few. They anticipate more live work in the coming year in support of their new music.

THE ROAD: Notes on the songs from Avasa & Matthew Love
Coming Home: A celebration and declaration of taking the path home to God in our hearts.
The Road: Inspired by a Rumi poem about the seeking of "the road" to Love.
Work: An homage to the diligent work of conscious people to support others along the path.
Mama Come Save My Soul: A devotional song to the Divine Mother within our heart, for her supreme guidance, strength, wisdom and beauty that guides us out of our ignorance and suffering.
Remember Who You Are: This song uses the Sanskrit mantra Om Tat Sat, Tat Tvam Asi -- "God is within me, I am within God" – to reassert that God's infinite Light is within us all.
Lord Lifts Me Up: An honoring of our beloved Lord who gives us strength and never deserts us.
Victory: Inspired by the Bhagavad Gita's teacher/disciple dynamic of Krishna and Arjuna, expressing the victorious overcoming of our internal unconsciousness through the guidance of our own Inner Being.
Rest Your Head In Your Heart: A sweet, soothing melody to relax the mind and guide it to the heart.
The Truth Is: A song expressing how the temple of our own spirit holds all the universe's secrets.
Thanks & Praises: Giving thanks to the Mother Father God and Great Spirit for the abundant light, life, strength, hope and beauty that we are able to access through their Love.
Love.Light.Wisdom: Our finale is meant to gift the listener with the simplicity of these three words as a guiding compass for one's life. It is a mantra that distills the intention of this entire album.