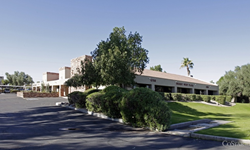 AZOffices.com announced that it has successfully completed the acquisition of Desert West Plaza in Tempe, AZ.
Tempe, AZ (PRWEB) January 21, 2015
AZOffices.com announced that it has successfully completed the acquisition of Desert West Plaza in Tempe, AZ. The 12,000 square foot building is located directly south of Highway 60 on Mill Ave. "It is a great location for us and we are excited to finally open a location in Tempe," explained Sara Medina, General Manager for AZOffices.com. The new location will offer AZOffices.com's traditional 1 to 2 person Executive Offices, Virtual Offices and Meeting Room services. However, new services will also be available at this location. These new offerings will include Mini-Suites and Co-Working space.
AZOffices.com has traditionally catered to startup and small companies with 1 to 2 employees. Their all-inclusive service is a great fit for many businesses not wanting to commit to long term office space, yet still have dedicated office space at an affordable price. Their new Mini-Suite concept will allow them to also cater to slightly larger businesses that have between 3 to 10 employees by offering private office configurations that range from from 250 to 2,500 square feet.
Co-working space has recently gained popularity as many millennials prefer to work in an open space environment. Some studies have shown that these open space concepts can lead to greater collaboration, creativity and networking. Co-working space provides a professional work environment that brings other businesses together and can foster strategic relationships and partnership opportunities.
AZOffices.com was opened in 2006 as an affordable and turnkey office solution for 1 to 2 person businesses. The idea began when two entrepreneurs were trying to start their own business, but found they had a lot of challenges trying to find office space. These challenges included needing smaller space, passing extensive credit checks and putting down large deposits. AZOffices.com was founded to help entrepreneurs minimize the headaches and costs associated with leasing office space. They currently have 2 locations in Gilbert, AZ and will soon open their Tempe, AZ location in late April 2015. For additional information, please contact Sara Medina at (800) 931-0399 or visit http://www.azoffices.com.