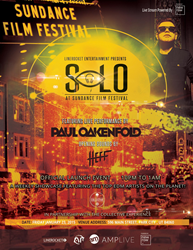 "SOLO will be the ideal platform for fans to directly interact with their favorite artists and also for corporate brands to directly interact with millennials through streaming media", said SOLO CEO Josh Heffler
Los Angeles, California (PRWEB) January 22, 2015
An electrifying new partnership comprising of four prolific companies in the music and technology industries has been announced. Music legend Paul Oakenfold, LineRocket Entertainment, newrow_ and Amplive are set to launch the highly anticipated electronic dance music brand "SOLO" at Sundance Film Festival. Digital distribution experts estimate that SOLO will receive a minimum of 50,000,000 views on the live stream over the course of one year. CEO of SOLO, Josh Heffler, stated, "SOLO will be the ideal platform for fans to directly interact with their favorite artists and also for corporate brands to directly interact with millennials through streaming media".
LineRocket Entertainment will produce a new episode of SOLO every Friday at 4 p.m. PST / 7 p.m. EST. Each week SOLO will showcase the top EDM artists on the planet performing unique and intimate experiences at Sound Nightclub in Los Angeles. The launch event for SOLO will take place at the YouTube headquarters at Sundance Film Festival in partnership with The Collective Experience. Not only will Paul Oakenfold be curating the entire 52-episode SOLO series, but he will also be headlining the official launch event with opening sounds by rising star Jason Heffler aka "HEFF." Fans can watch the first ever SOLO at http://www.sologeneration.com on January 23, 2015 at 10:30 p.m. PST / 1:30 a.m. EST.
3-time Grammy nominated producer Paul Oakenfold has scheduled a weekly artist lineup that will undoubtedly impress viewers again and again. Each week SOLO will have a new feel that caters to the specific artist performing, hence the name SOLO. The performers will have creative freedom to showcase their new album, perform with live musicians, or simply captivate the viewers at home with their unique style of performing.
Powered by newrow_, the SOLO live stream will allow at-home fans to digitally interact with stars in real time. Using newrow_ live chat features, fans can chat face-to-face with stars using a webcam or submit questions through text chat and Twitter – giving every fan the best seat in the house.
newrow_ is an interactive video platform purpose-built to engage large groups of people online from anywhere, on any device. The platform's advanced multi-streaming and collaboration technology is trusted by the world's top online classrooms, corporate training programs, brands and governments.
For sponsorship inquires and general questions please email jh(at)linerocket(dot)com.