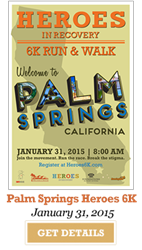 This is the 18th Heroes in Recovery 6k Run/Walk held in cities across the country designed to raise awareness and break the stigma associated with addiction and mental health.
Palm Springs, CA (PRWEB) January 21, 2015
Heroes in Recovery, a movement celebrating the heroic efforts of those who seek addiction and mental health treatment, returns to Palm Springs, for the fourth straight year for one of its family-friendly 6K Run/Walk events. The goal of the race is to garner support for people in recovery and to educate the community at large about addiction and behavioral health issues. The Heroes movement, ignited by Foundations Recovery Network (FRN), a family of treatment centers that includes Michael's House in Palm Springs, has also been carried on the shoulders of supporters, advocates, friends, family members and all those touched by the disease of addiction and mental health issues.
The Heroes in Recovery 6K Run/Walk will be held on Saturday, January 31 at 8:00 am in front of Michael's House at 515 N Palm Canyon Drive in Palm Springs. The race will begin and end at Michael's House, taking participants on a scenic 6K (3.728 mile) loop course through beautiful Palm Springs.
In an unconventional twist, the race includes awards to be presented to the top four males and females in the Overall category. The fourth place finishers will be recognized with the unique distinction of 'Almost Podium'. All Registered participants will each receive a racing singlet and finisher's medal. This is a family-friendly event which includes entertainment for all and post-race nutrition for race participants.
The charity beneficiary for this race is SafeHouse of the Desert. They are Coachella Valley's only 24/7 non-profit shelter for youth in crisis. Together with community support, they provide emergency shelter, intervention and outreach services. They help runaways, throwaways and victims of human trafficking. SafeHouse also offers a substance abuse program that helps teens address issues in a safe and secure environment.
After launching these events in 2011, this Heroes in Recovery event marks the 18th in a series of 6k races that are held across the country to raise awareness and break the stigma associated with addiction treatment, mental health needs and recovery. Previous events have taken place in Nashville, TN, Charlotte, NC, New York, NY, Palm Springs, CA, Louisville, CO, Coconut Grove, FL, Roswell, GA and Greenville, SC.
Early registration for all races is $25, regular registration is $30 increasing to $35, and day-of-race fees are $40.
For more information and to register go to http://www.heroes6k.com
About Heroes in Recovery:
According to the Substance Abuse and Mental Health Services Administration (SAMHSA), 20 million people needed substance abuse treatment last year and did not receive it. Ten million Americans did not receive needed mental health care. The stigma associated with substance abuse and mental health disorders creates a significant barrier to individuals and families seeking help.
Heroes in Recovery is a grassroots movement intended to remove the social stigma associated with people who are in recovery, to recognize the heroic effort it takes to overcome the obstacles in seeking help, and to celebrate the act of preventing the past from kidnapping the future. While the movement initially focuses on persons recovering from addictive behavior, it is meant also to recognize heroes recovering from many other types of disorders and trauma that can feed or manifest from an addiction. For more information go to http://www.heroesinrecovery.com.
About Foundations Recovery Network:
Headquartered in Nashville, Tenn., Foundations Recovery Network is one of the premier organizations for treating those with co-occurring addiction and mental health disorders. FRN's treatment facilities include Michael's House in Palm Springs, Calif.; The Canyon in Malibu, Calif.; La Paloma in Memphis, Tenn.; and Black Bear Lodge in Sautee, Ga.; as well as full-service outpatient treatment centers in Atlanta, Ga.; Santa Monica, Calif.; Memphis, Tenn.; Nashville, Tenn.; San Francisco, Calif.; and Palm Springs, Calif.
All Foundations Recovery Network treatment centers practice a system of care that treats co-occurring disorders in a fully integrated approach for lasting recovery. For more information, please visit http://www.foundationsrecoverynetwork.com.
# # #