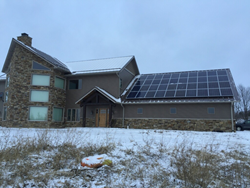 With Heliene we get the best of both worlds, a high quality module that also offers the flexibility we need to install on any project.
St. Paul, Minnesota (PRWEB) January 21, 2015
Heliene Inc., originally an Ontario based manufacturer of high quality commercial and residential solar panels, announced it has expanded and will begin production at its new St Paul, Minnesota facility.
"We are delighted to be part of the Made in Minnesota program, and expand our operations into the Minnesota market", said Heliene President Martin Pochtaruk. "We see this as a great opportunity to move into both Minnesota, as well as into the U.S. market in a big way."
Heliene and US partner SimpleRay, LLC will produce standard form-factor medium to high efficiency 60 and 72 cell modules ranging in output from 250 watt polycrystalline panels to 335 watt monocrystalline panels, with final assembly and testing taking place at the St. Paul facility. SimpleRay and Heliene will initially add 12-20 employees to their assembly plant and corporate offices to accommodate the expanded operation.
Said SimpleRay's President and CEO Geoff Stenrick, "We couldn't be happier to partner with the leader in North American module production. Heliene brings extensive manufacturing experience to help with any size project from a small residential system to large utility scale. With production in both Canada and Minnesota, we can also offer a high quality product that helps create manufacturing jobs throughout North America. "
Blue Horizon Energy (BHE), based in Eden Prairie Minnesota, was selected to be a test site for Heliene's initial product introduction to the Made in Minnesota market (pictured). Said John Aune, founding member of BHE, "We are very excited to finally have a high efficiency, standard module in the Made in Minnesota program. With Heliene we get the best of both worlds, a high quality module that also offers the flexibility we need to install on any project."
About Heliene Inc.
Heliene Inc. ("Heliene") was the first solar panel manufacturer to start operations in Canada in 2010. The company's 70MW capacity plant located at the heart of the Great Lakes is the first of its kind to produce high efficiency photovoltaic modules for the residential, commercial as well as utility-scale markets in North America. Heliene has built a reputable position based on a high efficiency quality product, one-on-one customer service and innovative product development.
Heliene is ISO 9001 certified, and ensures that its product and business practices are on the cutting edge from its quality management system, to the addition of a focused R&D and product market positioning, making for a highly sustainable PV module. The manufacturing line is fully robotized ensuring consistent quality and low variable costs, while low level of debt and low fixed costs result in a highly sustainable business.
Heliene's modules have undergone 20+ independent 3rd party engineering evaluations and have passed all to become an approved vendor for projects financed by major banking institutions worldwide.
About SimpleRay, LLC
SimpleRay, began in 2007 as an innovative online solar distributor, and has ranked in the annual Inc. 500|5000 for the last two years, placing fifth among all companies in Minnesota in 2012, as measured by Inc. Magazine. The company has sought since its inception to form partnerships with the largest and most respected names in the renewable energy industry, offering competitive prices on the latest and highest-quality technology.
Solar professionals wanting to source solar parts can expect timely and accurate advice, project management services, and high-quality after-sales support. SimpleRay's expanded project management services include customized permit packages with full three-line electrical diagrams with structural engineering documents available as well that comply with most local AHJ requirements.