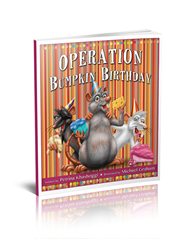 It's not easy being a rat.
New York, NY (PRWEB) January 22, 2015
It's not easy being a rat. Three brothers, Snitch, Snatch and Sketch, are tired of scavenging for scraps of food down in the subway where they live. One night, they go on an adventure through the city so that they will never go hungry again. After arriving at a large house, they discover that the next day, a children's birthday party is planned for young Horatio Bumpkin. The brothers hatch a clever plot to break into the house during the festivities and steal as much food as possible—without getting caught. But one greedy brother spoils the plan with a plan of his own.
About the Author
British-American author Petrina Khashoggi lives in Los Angeles with her beloved dog, Humphrey. She writes for newspapers and magazines, and is currently working on a novel and screenplay.
About the Illustrator
Michael Graham lives in Winston-Salem, NC with his wife, daughter, a Sheltie, and a host of characters and creatures which spring from a fertile imagination to create all manner of mischief, havoc and mayhem.
For more information, please visit fullcyclepublications.com
EDITORS:
For review copies or interview requests, contact:
P. O. Box 57005, Murray, Utah 84157
Tel: 1 (801) 359-0304 • fax: 1 (801) 905-3348