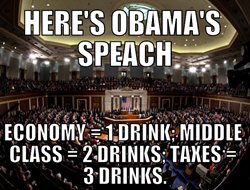 Meme internet content with News Meme
Seattle, WA (PRWEB) January 21, 2015
Callitics, LLC is launching new updates to their internet memeing software, News Meme.
At News Meme users take their favorite internet content and create memes based upon it. Readers of News Meme click on other memes to see what internet content inspired it. Other than creating memes from internet content, users vote on them, and share them on social media.
"News Meme is taking off," says Tom Howard, lead developer of the website. "We are looking for Facebook page administrators that are trying to engage with their fans." The News Memes are optimized for being shared on social media's image feeds.
"Not only can you meme internet articles,but also YouTube videos," says Henry Getz, co-founder of Callitics.
Callitics launched its smartphone app for political organizations last year to little fanfare. The app allows anyone to become their own political action committee. The Callitics software creates viral phone campaigns to targeted officials on any public issue. The app can focus on federal or state legislatures and even allows users to target specific offices. Users are matched to their elected officials by geolocation and share the calls on social media to achieve their legislative goals.
"Our updates to Callitics are going to be here really soon," says Howard. "We are really impressed with Apples update to Swift from outdated Objective-C, but it has taken us more time to update."
"We're rebranding it Power to People," says Getz. "The name is just more inviting than Callitics, which is a purely made up name that made uptake more difficult.
Callitics, LLC is a software development company out of Peoria Heights, Illinois that specializes in designing and developing small, cool, and fun software for humans. They can be reached at http://www.callitics.org