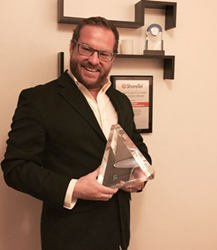 Mark is a selling professional that adapted quickly and made a positive impact in 2014, especially in the newly adopted ShoreTel Sky business.
Chicago, IL (PRWEB) January 22, 2015
Converged Technology Professionals, Inc., an award winning ShoreTel partner, presents Mark Johnson the 2014 President's Club Award for this year's top sales representative. This marks the second consecutive year Mark Johnson's sales exceeded 2 million dollars for the year.
David Petts, Senior Vice President of Worldwide Sales at ShoreTel, offered the following: "CT-PROS ShoreTel business continues to grow strongly in both premises and cloud solutions. The key to having a great sales and service organization is the people that make it happen every day. It is my pleasure to congratulate Mark for another great year."
Upon accepting the award Mark Johnson stated, "Thank you to the Leadership at CT-PROS. Our success is based solely on the ability to work with the best Engineering team in the country. Every year we bring new challenging projects and every year our team delivers on our core principles of customer satisfaction. My wife Jill and our two boys Charlie and Parker are the supporting staff that makes it all work!"
Joe Rittenhouse, President of Business Development at Converged Technology Professionals, added "Mark continues to set the standard for sales professionals in our industry. He has proven to be a fearless leader amongst the rapid change in our industry. His growth and success is a big key to our continued success. We are privileged to have him as part of our AWESOME team here at Converged. I'm looking forward to what lies ahead in 2015.
About Converged Technology Professionals:
Converged Technology Professionals, with offices in Chicago, Crystal Lake, Milwaukee, and Indianapolis, is a nationally-recognized, award-winning unified communications and mobility solutions provider, based in the Midwest and serving a wide range of organizations from medium-sized businesses to multi-site large enterprises for their mobility, voice, and data needs. CT-PROS supports clients on 6 different continents, over 200 countries and has recently surpassed supporting over 250,000 end users globally. CT-PROS is a technology based consulting firm with a primary focus on client relationships. Converged is one of the largest VAR's in the Midwest and considered to be one of the fastest growing privately held consulting firms in the United States.