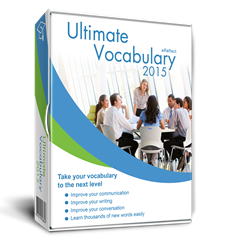 ... vocabulary has the power to make people more compelling in their arguments and through their choice of words.
New York City, NY (PRWEB) January 23, 2015
Ultimate Vocabulary™ is software designed by eReflect to help people improve vocabulary. In an announcement today, eReflect shares the software's recent top rating from Software Review Boffin. Software Review Boffin is an established reviewer of programs and tools that help people in their personal and professional lives. As eReflect confirms, the site has recently published a definitive guide on vocabulary building software. The reviewer ranked Ultimate Vocabulary™ by eReflect at the first-place spot, well ahead of other top vocabulary builder programs.
For Boffin, Ultimate Vocabulary™ is the best vocabulary program available because of its ability to help people master new vocabulary and use it easily and correctly in real-life conversations. After careful consideration of the features and capacities of several programs, the Boffin review ranked the products using their overall scores. The site gave the third place to Power Vocabulary Builder, and gave second-place status to Word Smart. In the first place position, winning Boffin's gold five-star award, is Ultimate Vocabulary™.
In the comprehensive vocabulary software review, Boffin outlines some of the many benefits users receive by practicing their vocabulary with this vocabulary program. The verdict by Boffin includes this statement directed towards users: "You will also learn an extensive set of brand new words and meanings that will enhance your confidence, considerably improve your career and increase your writing skills as well. "
People today want to be more confident in their day to day conversations. Whether pitching a new project in a company meeting or winning a salary negotiation with the boss, vocabulary has the power to make people more compelling in their arguments and through their choice of words.
As eReflect notes, "Language, and especially word choice, is of vital importance. People that have a strong, varied vocabulary are the ones we often consider charismatic and with a flair for rhetoric. They are always ready with a compelling argument or two on any matter. Vocabulary building software helps people become better in how they speak and write, as it helps them choose the most appropriate word for every context."
Boffin concludes the review by saying that Ultimate Vocabulary™ helps people become better at their language use with just 10 minutes of training per day. eReflect appreciates this review and hopes that it helps answer any questions that prospective users might have about their choices for vocabulary building software.
***********
For more information on how you can benefit from Ultimate Vocabulary, please visit its official website, http://www.ultimatevocabulary.com.
About Ultimate Vocabulary™
Ultimate Vocabulary provides a proven and powerful platform, built to improve anyone's vocabulary.
The interactive self-improvement system provides more learning tools than any other program on the market, as well as more information on words.
The Ultimate Vocabulary software provides each and every user with a personal computer tutor. Providing a step-by-step guide to learning a powerful vocabulary, Ultimate Vocabulary is the learning tool everyone can benefit from.
Of course, the software is also backed by eReflect's iron-clad money back guarantee.