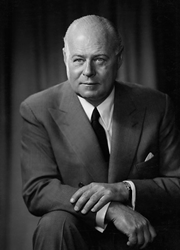 The similarities between Kodak and the once very popular sport of horse racing should not be lost on any one in the horse industry today.
Toronto, ON (PRWEB) January 22, 2015
The Thoroughbred horse racing industry could collapse if all industry participants do not address the sport's current challenges. Racing Future is determined to address these problems, inspire new fans, and grow the sport by providing expert commentary and informational resources, social engagement channels, advocacy and discussion. In "Sport of Horse Racing in 2015: What Would E.P. Taylor Do?" Racing Future looks to one of the sport's greatest champions to advance debate and change in the sport.
Racing Future takes Mr. Taylor's expert opinion and shows what he would do about many current issues in racing such as the status of Woodbine, the non-profit racetrack he built, and how racing profits should be invested. Mr. Taylor would re-invigorate off-track betting, overhaul the current treatment of owners, and use his Thoroughbred breeding and retailing genius to rejuvenate the Canadian Thoroughbred Horse Society annual yearling sale.
Looking at the sport as a whole, Mr. Taylor would look to implement best-in-class initiatives of many leaders in the global horse industry. And, he would have some important thoughts to share with Gulfstream Park owner Frank Stronach.
Racing Future calls on the spirit of E.P. Taylor because he was an expert whose opinion members of the horse racing community will value. And Racing Future believes that everyone in the sport should all be working in the spirit of Mr. Taylor who, like his famous little stallion, never gave up – even in the face of naysayers, change, and adversity -- on working with others and building the vision.
Click here to learn what Canada's Thoroughbred racing expert would do for horse racing today
Comments and more information:
Dennis Mills
President & CEO
Racing Future Inc
dennismills(at)racingfuture(dot)com