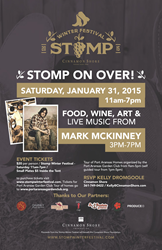 Its going to be a fun weekend! On Saturday we'll have 6 wine vendors, a whiskey/bourbon tasting table, margaritas/cosmo table, 7 food tables from local restaurants, various artists selling art & photography, jewelry, face painters, cigars & live music!
Port Aransas, TX (PRWEB) January 22, 2015
Live Music, local food and art for sale, wine tastings, bourbon and whiskey tastings, face painting, dancing, cigars and hot cocoa are some of the activities that will be happening under the heated white tent in the Cinnamon Shore Town Center on Saturday, January 31st.
Cinnamon Shore is a master planned new-urbanist beach community that is the first of its kind on the Texas Coast. It has reached a point in its growth and success to launch their charitable organization, The Cinnamon Shore Foundation. This foundation is a giving fund, which was formed by its founders to bring together the local community and various outreach programs, under the culture of giving.
The Cinnamon Shore Foundation mission is "to impact the lives of others through giving".
All proceeds of this first event will benefit The Helping Hands Food Pantry in Port Aransas, which provides food, personal care items, diapers and a medical fund to the local school nurse. It also supports the weekend backpack program to kids in need in Port Aransas.
The proceeds will also benefit the Port Aransas Art Center in their quest for their new facility.
Tickets and more information are available at http://www.StompWinterFestival.com
The Cinnamon Shore Foundation a 501(c)(3) nonprofit organization was established in 2014 to promote and support cultural, educational, environmental and charitable activities locally and abroad.
Cinnamon Shore is a pedestrian-friendly beach resort community located on Mustang Island just off the coast of Corpus Christi and nestled behind 300 feet of protective dunes. The main entrance is at 5009 Highway 361 Port Aransas, TX 78373