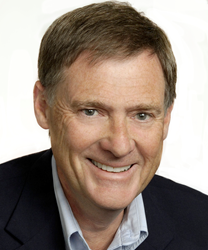 The amazing energy of all the organizations and stakeholders involved and the way that Napa Valley works together is something that other trail organizations can learn from.
Napa Valley, CA (PRWEB) January 27, 2015
The Napa Valley Vine Trail Coalition announced today that Philip Sales has expanded his role from volunteer, consultant and Chair of the Route/Engineering Committee to Executive Director. Sales replaces current volunteer Executive Director, Chuck McMinn in order to bring more resources to that position.
Sales brings with him a wealth of experience in trail planning, landscape design, engineering and project management. After retiring from his role as Chief Park Planner for Sonoma County after twenty years, he worked with ALTA Planning+Design and was project manager for the 2007 feasibility study of a bike path from Vallejo to Calistoga which became the basis of the Vine Trail. Since 2009 he has been with the Vine Trail Coalition as both a volunteer and consultant. The Vine Trail will greatly benefit from his extensive knowledge of route planning, development, fundraising, permits and the procurement process needed to successfully complete the 47-mile trail connecting the entire Napa Valley.
Sales is dedicated to the Vine Trail project. "Too often a study will sit on a shelf, but the way the Coalition embraced the concept and created the vision is unique. The Vine Trail Coalition is a model of a true public-private partnership. It has been exhilarating watching the Vine Trail organization grow over the past five years under Chuck's leadership. The amazing energy of all the organizations and stakeholders involved and the way that Napa Valley works together is something that other trail organizations can learn from."
It was Sales' determination to complete this project which compelled him to accept the offer from the Vine Trail Board and lead their non-profit organization to the finish line. Sales comments "I am excited to step up to a new role within the Vine Trail Coalition and look forward to working with the Board, committees, members, volunteers and community to realize the vision Chuck and the Coalition's board had over six years ago. I am proud to be part of such a respected organization and look forward to making this vision a reality to Napa Valley."
Chuck McMinn, Founder, and outgoing Executive Director, who will remain as President and Board Chair, says, "Philip's work ethic and wealth of industry experience has already made him an invaluable part of the Vine Trail Coalition. We view his appointment as a sign of our commitment to completing the project, and doing it right from the start. The future of the Vine Trail is bright, with 12.5 miles of paved trail accessible this year passing nearly 60% of Napa County's residents, an innovative Arts program taking shape, key fundraising benchmarks being achieved, and an exciting marketing program to bring more visitors to the Napa Valley to enjoy the outdoors, our wonderful wineries and our world-class hospitality. We are very fortunate to have someone of Philip's caliber to fulfill this role. I'm confident that Philip will play a key role in completing the trail and making it the best possible Napa Valley experience for generations to come."
The Vine Trail Coalition invites everyone to meet Sales and other Vine Trail leaders and partners at their February 12 "Valentine to Napa Valley" announcement event at Vintners' Golf Club in Yountville from 4PM-6PM. Guests will also taste the new Vine Trail benefit cupcake, available all year from Kara's Cupcakes Oxbow Market location.
About the Napa Valley Vine Trail Coalition
The Napa Valley Vine Trail is a 47-mile hiking-and-biking trail that will extend from the Vallejo Ferry Terminal in Solano County to the City of Calistoga in northern Napa County. Along the way the Vine Trail will pass through the cities of American Canyon, Napa, Yountville and Saint Helena. Segments of the Trail are currently in design and construction, with 12.5 continuous miles from Napa to Yountville set to open in 2015. When completed the Vine Trail will be used over 3 million times per year by both local residents and visitors to the Napa Valley, making it one of the most popular multi-jurisdictional trails in all of California. The Vine Trail Coalition Board is made up of representatives of over 30 Napa and Solano County organizations including the Coalition's Premier Partners, The Napa Valley Vintners and Visit Napa Valley.
Photos and Events: https://www.facebook.com/NVVineTrail