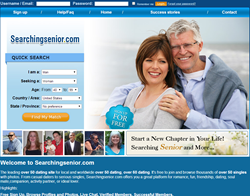 "Until you find the right one, I can't see a problem. be honest with them both."
(PRWEB) January 27, 2015
"Dating more than one person at a time" has always been a controversial topic among all daters regardless of their age. Recently, SearchingSenior.com, an over 50 dating site which has been in online senior dating business for 7 years, launched a poll about this issue among their senior members.
Surprisingly, the result shows that more than half people can understand this and admit doing the same. Older people usually think in an old-fashioned way and they may consider dating more than one person at a time to be kind of cheating. But the recent post by searchingsenior.com proves it not to be the case.
"We know this topic is controversial and we would like to know what our members really think about through this poll. Members can also share ideas with daters their own age and have an idea of each others' point of view," said Sue, the marketing manager of searchingsenior.com. "The poll stimulated a hot discussion among singles over 50 on our site and received a nice result. Members got better understanding of each other via discussion."
The title of the poll is "Dating more than one person at a time." The supporters feel that life has always be about choices. It is OK to date different people around the same time, and to them, it is the purpose of dating to learn about each other and discover if one wants to progress to something a little more special or "Exclusive". Furthermore, it is just the dating phase; they haven't yet engaged with each other. There should be more opportunities. But to the objectors, they feel that dating more than one person at a time is obvious a betrayal. It is not fair for those whom they are dating. Most of them claim that they feel uncomfortable dating more than one at a time. They would only date someone they are interested in; if it does not work, then they would move on to the next. And they would expect their daters to do the same.
Though the number of supporters and objectors were roughly the same, many members indicated in their comments that it might depend on what the interpretation of dating was. Most people thought that it would be OK to date more than one person casually until a definite conversation takes place about a committed relationship.
If you would like to know more about the poll or any other hot topics about over 50 dating, please visit: http://www.searchingsenior.com.