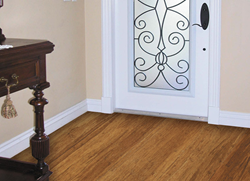 (PRWEB) January 24, 2015
BambooIndustry.com is a leading bamboo flooring factory and wholesaler; the business has been run to offer high quality natural wood products for over 10 years. Today, the business announces great discounts (up to 30% off) are offered on all its bamboo flooring products and the special offer is valid until Feb. 28, 2015.
The patented vertical lamination process BambooIndustry.com uses to produce its bamboo flooring and other bamboo products is far superior to the strand woven method. Its bamboo products are much lighter, stronger, considerably more durable and aesthetically pleasing.
BambooIndustry.com is a leader in the bamboo flooring industry. According to the sales manager of BambooIndustry.com, the company offers its customers discounted shipping for all the products, as well as unmatched customer service. BambooIndustry.com promises to continually adopt new technologies and premium customer service to stay competitive.
The CEO of the company says, "Working closely with our business partners, we are consistently able to maintain quality control to the very highest standards. We are excited to have a great opportunity to know so many potential customers online. We plan to bring many designs to the customers worldwide."
About BambooIndustry.com
Certified by both ISO9001:2008 and ISO14001:2004, BambooIndustry.com has 8 years of experience in the manufacturing and wholesale of bamboo flooring products. The company strives to bring its customers the latest styles and innovations of bamboo flooring, bamboo paneling, bamboo plywoods, bamboo furnitures, and other bamboo products.
More information about BambooIndustry.com and its bamboo flooring products can be found at http://www.bambooindustry.com/bamboo-flooring