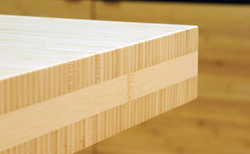 (PRWEB) January 21, 2015
BambooIndustry.com has recently shown its new multiple-layer bamboo panel board collection, and announced a special offer on all its bamboo flooring models. The special offer is valid until Feb. 28, 2015.
BambooIndustry.com is a professional bamboo flooring company offering many kinds of bamboo flooring products. All its bamboo materials are pre-treated with specially formulated penetrating oil. Its products are perfectly suitable for extreme outdoor weather conditions.
"We are happy to provide a wide range of high quality bamboo products for our global clients. We are one of the few suppliers in the world that use patented techniques, ensuring a 25-year guaranteed lifespan. We have an extensive range of bamboo floor designs, colours and sizes along with accessories," the CEO of the company says.
BambooIndustry.com has developed many innovative ways to improve the bamboo flooring's texture and finish. This gives consumers a better reason to make use of bamboo flooring in their houses.
About BambooIndustry.com
Certified by both ISO9001:2008 and ISO14001:2004, BambooIndustry.com has 8 years of experience in the manufacturing and wholesale of bamboo flooring products. The company strives to bring its customers the latest styles and innovations of bamboo flooring, bamboo paneling, bamboo plywoods, bamboo furnitures, and other bamboo products.
More information about BambooIndustry.com and its bamboo flooring products can be found at http://www.bambooindustry.com/products/bamboo-panel/