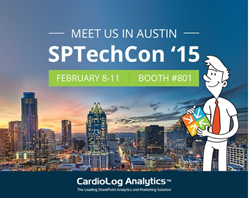 An Exciting Three-Part Webinar for SPTechCon
Boston, MA (PRWEB) January 21, 2015
Attending or following SPTechCon in Austin on February 8th through 11th? Start the journey early with a three-part SharePoint reporting webinar series courtesy of CardioLog Analytics.
The webinar series is focused on three important topics existing within the SharePoint reporting world today. By signing up for one, or even all three of the webinars, gain first-hand knowledge regarding social analytics, top metrics for the migration process, and ways for measuring portal adoption.
Social Analytics for SharePoint Success - Tuesday, January 27th 2015 11AM EST
Leveraging social for your SharePoint portal?Reserve a spot for an exclusive webinar dedicated to Social Analytics. Gain important insights on some of the most vital metrics that can be used to boost SharePoint, Yammer, or Sitrion social collaboration.
Top Metrics for SharePoint Portal Migration- Tuesday, February 3rd, 2015 11AM EST
Learn how to make data driven decisions to ease the SharePoint migration process and improve the portal. Find out how reporting can assist in organizing and optimizing the portal so the migration can be as seamless as possible.
Top 5 Ways to Measure SharePoint Portal Adoption- Thursday February 5th 2015 11AM EST
Looking to increase user and department interaction and collaboration within the portal? Find out how to measure portal adoption levels, to increase visitor engagement within the portal.
About Intlock
Intlock was founded in 2005. Ever since, it has been a leader in analytical solutions for SharePoint Intranets and Internet websites. As the company's flagship product, CardioLog Analytics set Intlock apart and put it ahead of the competition. CardioLog provides organizations with insights on how their SharePoint portal is being used, and helps optimize the portal. As organizations started to expand, so did the use of SharePoint to public facing websites. A demand grew for marketing tools designed for SharePoint, which lead to the release of the SharePoint Marketing Suite, which includes a wide range of marketing solutions for enterprise-level websites.
Today, Intlock products support all of the SharePoint versions, including the new 2013 edition. They offer a variety of insightful features and tools to help optimize portal and site productivity, as well as maximize the ROI.
Intlock, based in Boston, Massachusetts, has offices and partners throughout the world. Some of the customers utilizing these products are large worldwide enterprises such as Applied Materials, Fidelity Investments, and US Department of State. Intlock also offers a variety of packages for small business and NGO's.
For more information about this topic, please contact James Wright at +1-617-500-8461 (US) or email info(at)intlock(dot)com or james(dot)wright(at)intlock(dot)com.