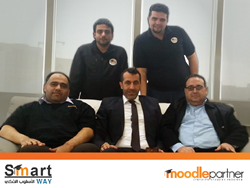 "Smartway are long-time friends of Moodle and it's great to see them expanding to other countries in the region. Their knowledge of Moodle and related open-source systems enables them to deliver high quality e-learning products to our clients."
PERTH, Western Australia (PRWEB) January 22, 2015
Moodle, the world's open source learning platform, today announces SmartWay as a Moodle Partner across wider geographic areas in the Middle East. SmartWay provides elearning services and training to provide online educational environments ranging from global enterprises, government, and education to mid-sized and small businesses. Broadening the Moodle Partnership across all their regional offices, Smartway can provide official Moodle services to customers, while helping to financially support core Moodle development.
Smartway have officially been named certified Moodle Partners in Saudi Arabia, Iraq, Syria, Oman, Morocco, Turkey, Lebanon and United Arab Emirates. Already well established, SmartWay boasts major clients and projects with Tabuk University in Saudi Arabia, national e-learning portal for Bahrain, and the Saudi Royal Air Defence amongst many others.
As the Middle East continues digitizing education, the growth of the e-learning market sees major universities, government and large corporations with heavy investments seeking the services of online learning systems and providers.
Martin Dougiamas, Founder and CEO of Moodle, said "Smartway are long-time friends of Moodle and it's great to see them expanding to other countries in the region. Their knowledge of Moodle and related open-source systems enables them to deliver high quality e-learning products to our clients."
Ismaeel Mohammad Deeb hazouri, Director-General of SmartWay, said: "Smartway sought to be one of the pioneers in the open source E-learning industry, working with Moodle for more than seven years, to provide the best solution for more than 100 satisfied clients. Our expertise in local markets, our Arabic culture support, identifying and understanding customs and traditions of Middle eastern communities has granted us access to nearby markets such as, the UAE, Syria, Oman, Iraq, and Turkey which has a SmartWay regional branch staffed with a Turkish team, because we realized that the Turkish market needed additional support in adapting Moodle. Moreover, our huge strategic projects in the United Arab Emirates also called for official representation by SmartWay. As a result, our partnership with Moodle increased our market share by 70%."
# # #
About Moodle
First released in 2001 by Martin Dougiamas, Moodle has since developed into a full-featured, flexible open source learning platform currently used in more than 230 countries with more than 70 million users worldwide. The focus of Moodle is to provide educators with the best tools to manage and promote learning. Supported by a global network of certified Moodle Partners, Moodle HQ continues to work with developers and educators worldwide to support a fast growing community of Moodle users. For more information, visit http://moodle.org
About Smart Way
SmartWay provide professional IT and e-learning services across the Middle East, including training, customisation, technical support and hosting since 2001. As one of the first companies to provide Arabic support to open source LMS systems, they continue to grow with eight offices in the Middle East.
Smartway provide professional support to Moodle through http://helpdesksmartway.com and also worked to spread the Moodle in Arab community through arabization Moodle documentations of the teacher and the student and the Admin in addition to the suponser Saudi moodle site sa-m.org that contains latest moodle solutions and provide free hosting and support services for researchers and students.
http://www.smartway-me.com/en