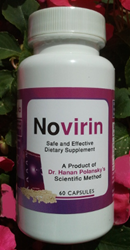 It is important to note that inflammation plays a role, together with HPV, in the development of both certain cancers and genital warts. - Greg Bennett, CBCD
Rochester, NY (PRWEB) January 22, 2015
"Infected with the human papillomavirus (HPV)? The CBCD recommends taking Novirin or Gene-Eden-VIR." - Greg Bennett, CBCD
Chronic inflammation can lead to genital warts. Inflammation, in general, is part of the body's immune response. It can be beneficial. However, if it's chronic, it can become damaging. When this happens, it can create the right conditions for the human papillomavirus (HPV) to reactivate, and cause genital warts. Dr. Cokluk and colleagues wrote in a recent study that "increased oxidative stress levels may contribute to the pathogenesis of genital warts, and prolonged HPV infection due to chronic inflammation …" (1) According to the CDC, "in most cases, HPV goes away on its own and does not cause any health problems." (See the CDC, last reviewed on January 23, 2014) (2) However, when HPV does not go away (and is made worse due to chronic inflammation) it can cause health problems like genital warts and cancer. "Genital warts usually appear as a small bump or group of bumps in the genital area. They can be small or large, raised or flat, or shaped like a cauliflower." (2) The Center for the Biology of Chronic Disease (CBCD) recommends that infected individuals take Novirin or Gene-Eden-VIR. The formula of these natural, antiviral supplements was designed to help the immune system target the latent form of the HPV virus.
Click to learn more about HPV symptoms.
The formula of Novirin and Gene-Eden-VIR was tested by Hanan Polansky and Edan Itzkovitz from the CBCD in two clinical studies that followed FDA guidelines. The studies showed that the Novirin and Gene-Eden-VIR formula is effective against the HPV and other viruses. The clinical studies were published in the peer reviewed, medical journal Pharmacology & Pharmacy, the first, in a special edition on Advances in Antiviral Drugs. Study authors wrote that, "individuals infected with the HPV…reported a safe decrease in their symptoms following treatment with Gene-Eden-VIR." (3) The study authors also wrote that "we observed a statistically significant decrease in the severity, duration, and frequency of symptoms." (3)
Both products can be ordered online on the Novirin and Gene-Eden-VIR websites.
Novirin and Gene-Eden-VIR are natural antiviral dietary supplements. Their formula contains five natural ingredients: Selenium, Camellia Sinesis Extract, Quercetin, Cinnamomum Extract, and Licorice Extract. The first ingredient is a trace element, and the other four are plant extracts. Each ingredient and its dose was chosen through a scientific approach. Scientists at polyDNA, the company that invented and patented the formula, scanned thousands of scientific and medical papers published in various medical and scientific journals, and identified the safest and most effective natural ingredients against latent viruses. To date, Novirin and Gene-Eden-VIR are the only natural antiviral products on the market with published clinical studies that support their claims.
It is important to note that inflammation plays a role, together with HPV, in the development of both certain cancers and genital warts. "In recent years, strong evidence from many epidemiologic and experimental studies has emerged, demonstrating that inflammation also plays an important role in the development of CIN and cervical cancer." (See BMC Public Health, from November 19, 2014) (4)
How can one reduce chronic inflammation?
"Some people advocate an 'anti-inflammatory diet.' Although there's less evidence such diets work to directly thwart inflammation, most of the recommended foods are typical of the Mediterranean style of eating and in principle are good choices. Key components of the Mediterranean diet include: Eating generous amounts of fruits and vegetables, Consuming healthy fats, such as olive oil and canola oil, Eating small portions of nuts, For some, drinking red wine in moderation, Eating fish on a regular basis, (and) Consuming very little red meat." (See The Mayo Clinic Health Letter) (5)
"Nononcogenic, or low-risk HPV types (e.g., HPV types 6 and 11), are the cause of genital warts and recurrent respiratory papillomatosis. Asymptomatic genital HPV infection is common and usually self-limited; it is estimated that more than 50% of sexually active persons become infected at least once in their lifetime. Persistent oncogenic HPV infection is the strongest risk factor for development of precancers and cancers." (See the CDC, last reviewed on January 28, 2014) (6).
Are there treatments available against the HPV?
"There are no drugs approved against the HPV. Current treatments include procedures, such as cryotherapy, conization, and the Loop Electrosurgical Excision Procedure (LEEP). These procedures use liquid nitrogen, a surgical knife (scalpel), a carbon dioxide (CO2) laser, or electrical current to remove the abnormal growths caused by the HPV. These growths include cells that harbor the active virus. The procedures do not target cells with the latent virus. Since they do not remove the latent virus, these procedures only produce a temporary remission." (3) In contrast, Novirin and Gene-Eden-VIR were designed to target the latent HPV.
Individuals interested in viewing published studies on the formula of Novirin and Gene-Eden-VIR can go here:
http://www.scirp.org/journal/PaperInformation.aspx?PaperID=36101#.U-s9ouOSz90 and http://www.scirp.org/journal/PaperInformation.aspx?PaperID=44234#.U-s9w-OSz90
Click to learn more about Novirin and HPV, and Gene-Eden-VIR and HPV.
References:
(1) Cokluk E, Sekeroglu MR, Aslan M, Balahoroglu R, Bilgili SG, Huyut Z. " Determining oxidant and antioxidant status in patients with genital warts." Redox Rep. 2015 Jan 13.
http://www.ncbi.nlm.nih.gov/pubmed/?term=Determining+oxidant+and+antioxidant+status+in+patients+with+genital+warts
(2) CDC.gov - Genital HPV Infection - Fact Sheet. Last reviewed: January 23, 2014
cdc.gov/std/hpv/STDFact-HPV.htm
(3) Polansky, H. Itzkovitz, E. Gene-Eden-VIR Is Antiviral: Results of a Post Marketing Clinical Study. Published in September 2013.
scirp.org/journal/PaperInformation.aspx?PaperID=36101#.U-s9ouOSz90
(4) Lixin Tao,corresponding author Lili Han,corresponding author Xia Li, Qi Gao, Lei Pan, Lijuan Wu, Yanxia Luo, Wei Wang, Zihe Zheng, and Xiuhua Guo "Prevalence and risk factors for cervical neoplasia: a cervical cancer screening program in Beijing." BMC Public Health. 2014; 14(1): 1185.
http://www.ncbi.nlm.nih.gov/pmc/articles/PMC4256817/
(5) Mayo Clinic Health Letter - Online Edition. by Brent Bauer, M.D. "Buzzed on Inflammation."
http://healthletter.mayoclinic.com/editorial/editorial.cfm/i/163/t/Buzzed%20on%20inflammation/
(6) CDC.gov - 2010 STD Treatment Guidelines - Human Papillomavirus (HPV) Infection. Last reviewed: January 28, 2011.
cdc.gov/std/treatment/2010/hpv.htm