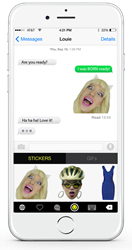 New York, NY (PRWEB) January 23, 2015
Snaps, a platform for visual conversations, announced today that it has launched the first "branded keyboard" offering, in partnership with Comedy Central's "Broad City." The iOS app features emojis and animated GIFs that can be easily inserted into mobile conversations. "Broad City" fans can use the app to access a library of visual fan content that can be easily inserted into messages in apps like iMessage, Facebook Messenger, and WhatsApp, and their friends will be able to receive the emojis and GIFs even if they haven't downloaded the custom keyboard.
Snaps' custom keyboards supplement its existing Photo Booth product as a unique and user-friendly way for brands to reach their fans through the most cutting-edge mediums of communication. For young, tech-savvy audiences, traditional social networks have been increasingly supplanted by faster, lighter messaging platforms when it comes to meaningful interactions -- 30 billion messages are sent every day through WhatsApp alone, and Facebook Messenger has over 500 million monthly active users. Snaps' new product empowers brands with an alternative to more intrusive, less relevant forms of advertising by allowing users to get creative with branded content and make it their own.
"The key to engagement with consumers is relevant content, and the branded Snaps keyboards offer a completely new type of interaction between friends, who now have the ability to share content that they like, in the medium that they spend the most time in - messaging," said Vivian Rosenthal, founder of Snaps.
Snaps' Photo Booth product has already been used by brands like Nestlé, Sony Pictures, and The Humane Society, allowing fans to easily add branded content to their photos and share seamlessly across social media platforms. The company created its branded iOS keyboards to address the market need for a both user- and partner-friendly, un-intrusive means of visual branded content for messaging platforms like iMessage and WhatsApp, and more brand collaborations will be announced in the coming months.
"We've seen young audiences shifting from email and Facebook to new homes like Instagram and iMessage, and we're thrilled to be working with Viacom and other brands to help manage this shift with them," said Christian Brucculeri, CEO of Snaps.
Snaps' "Broad City" keyboards can be downloaded by iOS8 users at http://cc.com/bckeyboard
ABOUT SNAPS
Snaps is the leading marketing platform that drives brand ROI by enhancing campaigns, events and social media programs with visual content. Offering a suite of connected social media and messaging solutions, Snaps has helped dozens of Fortune 1000 companies like Viacom, Kraft, and Sony Pictures find their visual voice.