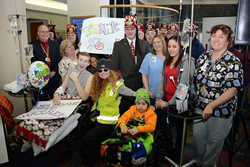 Boston, Mass. (PRWEB) January 21, 2015
On Thursday, January 22, 2015 at 11:00 a.m., Anna Harrington from Astoria, Oregon will complete a lifelong dream of walking across the country when she arrives on the steps of Shriners Hospitals for Children® – Boston. When Anna conceived this dream she did not have a purpose in mind other than to see the country. Her purpose became clear when her nephew was treated for scoliosis at Shriners Hospital in Northern California. Anna knew then that one day she would walk across the country in support of Shriners Hospitals for Children.
That day came on March 1, 2014 when she left Oregon with plans to walk all the way to Massachusetts visiting eight hospitals along the way and concluding her journey at a ninth - Shriners Hospital Boston. Anna's plans included walking each day and camping out at night. As it turned out, Anna only camped out four nights during her 328 day walk. Anna was fortunate to have received support from a network of Shriners members who passed word across state lines to assist Anna as she traveled through their state.
Anna reached Massachusetts 11 days ago and is excited to soon be arriving at Shriners Hospital Boston, where her much anticipated visit will mark the end of her journey. On hand to greet Anna and celebrate her remarkable accomplishment will be patients, families, staff, Shriners and others who befriended her along the way.
Anna will have logged 3800+ miles through 18 states, worn out six pairs of shoes, and visited Shriners Hospitals in Portland, OR; Salt Lake City, UT; St. Louis, MO; Chicago, IL; Cincinnati OH; Philadelphia, PA; and Springfield and Boston, MA. http://www.annaswalk.com/
About Shriners Hospitals for Children
Shriners Hospitals for Children is changing lives every day through innovative pediatric specialty care, world-class research and outstanding medical education. The 22 locations in the United States, Canada and Mexico provide advanced care for children with orthopaedic conditions, burns, spinal cord injuries, and cleft lip and palate. Shriners Hospitals for Children is a 501(c)(3) nonprofit organization and relies on the generosity of donors. All donations are tax deductible to the fullest extent permitted by law.
Contact:
Bernadette White
Regional Director of Public Relations
617.371.4784 / Cell: 413.351.6141
bwhite(at)shrinenet(dot)org