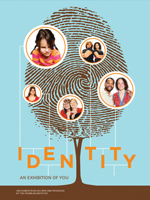 Danville, VA (PRWEB) January 29, 2015
Danville Science Center invites guests to challenge their perception of personal identity in Identity: An Exhibition of You. Opening Saturday, February 7, the featured exhibition discovers the connection between our thoughts and relationships to our genes, brains and all things scientific.
"Identity creates an environment where anyone can explore their own identity," says Adam Goebel, Acting Director, Danville Science Center. "It is a unique and personalized experience that makes people of all ages reflect on how they perceive not only themselves, but others as well."
Guests delve into genetics and psychology through a series of hands-on activities. Uncover what your taste in music reveals about your personality, learn that looks may be deceiving and discover that although your fingertip pattern is genetic, the ridges are not! The exhibition encourages visitors to see themselves from new perspectives and learn more about their biological identity in an interactive experience suited for guests of all ages.
Identity: An Exhibition of You is generously sponsored by The Community Foundation of the Dan River Region and J.T. Minnie Maude Charitable Trust.
Identity: An Exhibition of You is included with exhibit admission. Tickets are $7 with a $1 discount for ages 4-12 and 60+. For more information, visit dsc.smv.org or call 434.791.5160.